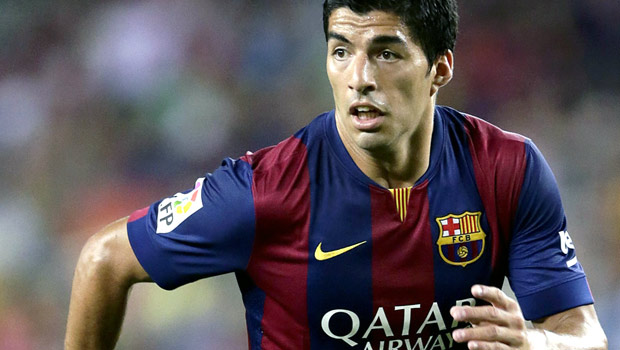 Barcelona forward Luis Suarez admits he feels "more relaxed" after scoring his first goal in La Liga during Saturday's 5-0 win over Cordoba.
The €80million summer signing from Liverpool had played over nine hours of league football before his 53rd-minute strike at Camp Nou gave Luis Enrique's side a two-goal lead.
Suarez looked like the player who finished as top scorer in the Premier League last season as he controlled a cross from Pedro and poked a shot through the legs of Cordoba goalkeeper Juan Carlos.
Barcelona fans will now hope breaking the duck will help the Uruguayan recapture some of his old goalscoring form, and the player himself admits he feels calmer about the situation now.
"I kissed my hand for my wife and for my two kids, who stayed at home," Suarez said. "I was able to score, and that leaves me more relaxed.
"I am a forward and I must score goals, but I am helping the team to achieve things. That means I was not obsessed about this."
Saturday's win means Barcelona will spend the two-week winter break in second place, one point behind leaders Real Madrid, who have a game in hand.
Suarez added: "We could be doing better in the table, [but] I consider that the team is undergoing a process, that over the course of the season we will improve, but there will be difficult games."
Barcelona return to action after the winter break at David Moyes' Real Sociedad on January 4 and are priced at 1.35 to win.
Leave a comment