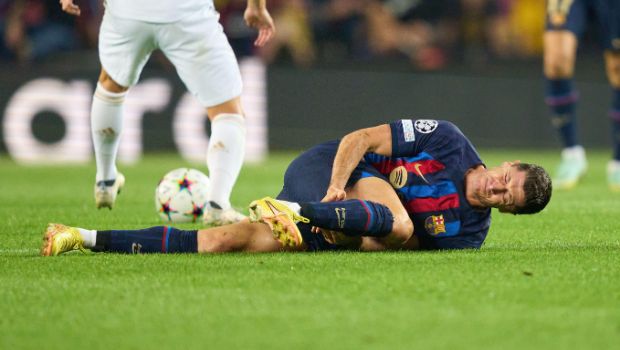 Barcelona has been handed an injury problem ahead of Thursday's Copa Del Rey first-leg semi-final against Real Madrid, with Poland striker Robert Lewandowski out of the first leg due to injury.
Lewandowski played in Barcelona's 1-0 loss to Almeria on Sunday evening. Still, his performance was subpar, and although he finished the game, a statement on Barcelona's website on Monday indicated that the former Bayern Munich player picked up a knock.
The club further stated that the availability of the player is dependent on How soon he recovers from the injury.
"Robert Lewandowski has strained the biceps femoris in his left hamstring. The Polish striker is unavailable until the problem clears up. The striker has been a key figure this season for Barça scoring 25 goals in 31 appearances so far in a Blaugrana shirt. After the game against Almería, the available first-team players carried out a recovery session at the Ciutat Esportiva in which Julián Araujo, Lucas Román, and Txus Alba from Barça Atlètic and Alarcón from the Barça U19 squad also took part." The statement read.
Barcelona's 1-0 loss to Almeria on Sunday is their first loss to the club side and their first defeat in 18 La Liga games bringing their unbeaten run to an end.
Xavi's team still boasts a seven points gap between themselves and Real Madrid, who failed to win after a 1-1 draw in the Madrid derby against ten-man Atletico Madrid.
The Copa Del Rey semi-final starts with Wednesday's clash between Osasuna and Athletic Club before Thursday's clash between Real Madrid and Barcelona at Santiago Bernabeu.
It will be the third fixture between both teams this season after Real Madrid won the first La Liga meeting between both sides 3-1, while Barcelona returned the favor in the Supercopa final in Saudi Arabia in January.
Leave a comment