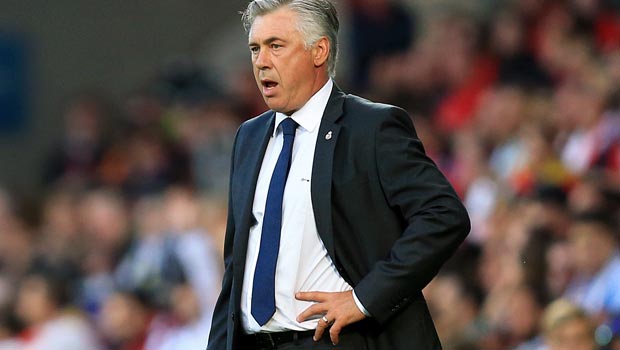 Carlo Ancelotti has laughed off reports of a crisis at Real Madrid in wake of their Copa del Rey defeat at Atletico Madrid.
The European and world champions fell to a 2-0 defeat against local neighbours Atletico on Wednesday in the first leg of a Copa del Rey tie at the Vicente Calderon.
Ancelotti's side went on a Spanish record 22-game winning streak at the end of 2014 but since returning from the winter break have lost back-to-back games, following the 2-1 defeat at Valencia on Sunday.
The Italian coach is now being asked if his side are at the start of a crisis but he has played down the talk and insists they will return to winning ways soon – starting with Sunday's La Liga clash with Espanyol.
"Crisis? That's a bit exaggerated," said Ancelotti. "Obviously we're not happy losing two in a row. We have to win again quickly, starting with the Espanyol game.
"Also, this was just the first half of this story against Atlético. We still have to play the second game. In football, anything can happen."
Real Madrid star Cristiano Ronaldo was left on the bench for the start of yesterday's defeat.
Ancelotti has confirmed the Portuguese was rested due to fatigue and has no worries about his side's form, having played well against Atleti before Raul Garcia's second-half penalty.
He added: "Cristiano was a bit tired so it would've been risky for him to play the entire game. That's why I saved him for the second half.
"As for the game, we had it under control until that penalty."
Real Madrid will hope to secure a first win of 2015 against Espanyol this weekend and are priced at 1.09 to claim all three points at Santiago Bernabeu, while the visitors are 24.12.
Leave a comment