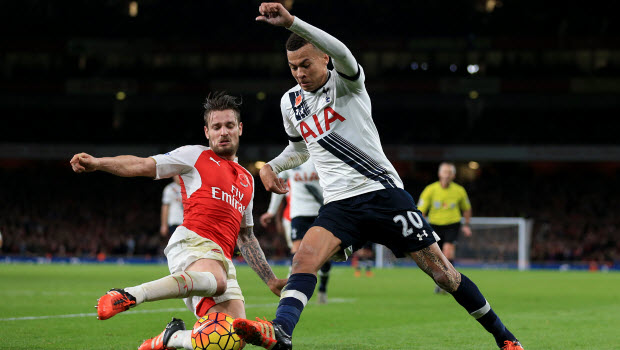 Arsene Wenger has confirmed Arsenal defender Mathieu Debuchy will be assessed by the club's medical team in the coming days after picking up an injury on Sunday.
The Frenchman was handed his first start in more than a year for Arsenal, who are priced at 9.00 to win the Premier League, on Sunday in the 3-1 victory over Bournemouth at the Emirates.
However, it ended in tears for the full-back as he lasted just 15 minutes before being forced off with a hamstring problem. Debuchy had only just returned to the first-team fold after overcoming a calf issue he suffered in August and the medical team will now need to give him the once over.
Wenger admitted it is too early to fully diagnose the injury but revealed that Debuchy felt it was a "severe one". "He thinks it's a severe one," Wenger said.
"I have to speak to the medical people. You can only assess it really after 48 hours, you have to let it bleed. "Usually they have an MRI 48 hours later when the bleeding is over to see how big the damage is."
Striker Olivier Giroud is also set to be assessed by the medical team after he complained of an issue with his hamstring. Wenger added: "We have to see how big the damage is. "On his first movement, he told me he felt a twitch at the back of his hamstring, and let's see.
I hope it's not too bad because he told me after that when he sprinted he didn't feel anything."
Leave a comment