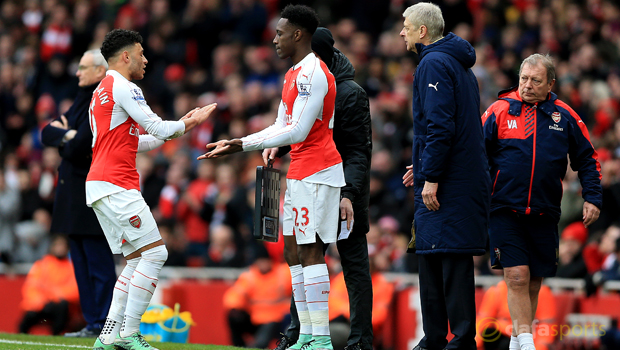 Arsenal boss Arsene Wenger has admitted his team's Premier League title challenge would have been ended by defeat to 10-man Leicester on Sunday, as he praised Danny Welbeck for keeping their dream alive.
The Gunners could have found themselves eight points behind the Foxes had they lost the clash at the Emirates Stadium.
Jamie Vardy's first-half penalty set Leicester up to deal Arsenal a massive body blow, but the north London outfit responded in the second half, with Theo Walcott equalising before Welbeck headed the winner in stoppage time.
Wenger's men are now just two points off top spot and 2.38 to win the title after a dramatic day. Leaders Leicester are 4.20 while second-placed Tottenham are 3.50 after defeating Manchester City at the Etihad Stadium 2-1.
Wenger has praised the mental toughness of his side, having come back from the brink of having their title dreams ended to leave themselves in with a chance of clinching their first Premier League crown in 12 years.
"A loss would have been massive," Wenger said. "After that you get all the negative vibes, the belief goes down, it would have been much more difficult.
"We would not have given up, but eight points is three games to come back. We would need to win three, they would need to lose three.
"I believe that we put the right level of intensity from the first minute to the last minute in this game. We were mentally strong because being 1-0 down against a team of that calibre and coming back is very difficult."
Wenger was also delighted to see Welbeck return from 10 months on the sidelines with a knee injury to score the winner, as his gamble to include him in the squad after such a lengthy lay-off paid off.
"For him it was a fantastic day," added Wenger. "At his age, to be out for 10 months [is difficult]. I had a hesitation until the last second to put him in the squad. In the end I trusted the impression I got from his training sessions, so we thought, 'OK, we'll put him in'."
Leave a comment