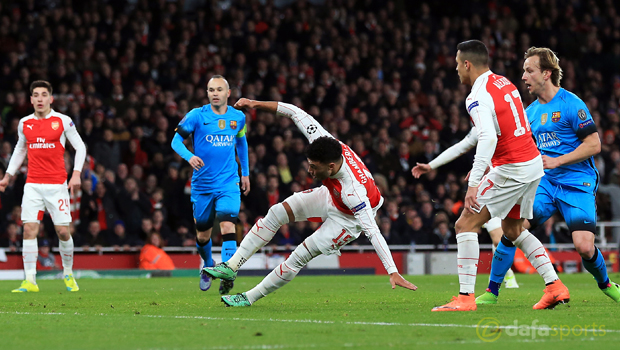 Arsene Wenger says he is "cautious" regarding the knee injury Alex Oxlade-Chamberlain suffered against Barcelona impacting his chances of going to Euro 2016 with England.
The Gunners midfielder went off shortly after a collision with Javier Mascherano as Barcelona left the Emirates with a two-goal win thanks to second half goals from Lionel Messi.
The Arsenal manager feels Oxlade-Chamberlain's injury is worse than may have been feared initially but he is still hopeful it will keep the 22-year-old out for less than a month.
"His injury is quite serious and keeps him out for a few weeks," said Wenger. "He is seeing a specialist at the moment and hopefully we will have good news. He is out for a few weeks, for how long exactly I don't know."
Questions by reporters on whether or not the setback would impact on Oxlade-Chamberlain's chances of going to France with the England squad for Euro 2016 in June, Wenger admitted it is a concern.
"I don't know but I am cautious," he added.
"It's a new injury. When he has been cut in two by Mascherano, he did his knee. We have to see how big the damage is and we'll see more later."
Wenger was however keen to absolve the Barcelona player of any blame for the injury, insisting the collision was a result of two players committed to the tackle.
"I don't think it was a malicious tackle, it was fully committed. Let's hope we have good news that it is only two or three weeks, not six or seven," he said.
Arsenal are thrust straight back into the Premier League title race on Sunday when they head to Old Trafford to face Manchester United.
The Gunners are 2.38 defeat their old foes while Arsenal are 2.38 to win the Premier League title this season.
Leave a comment