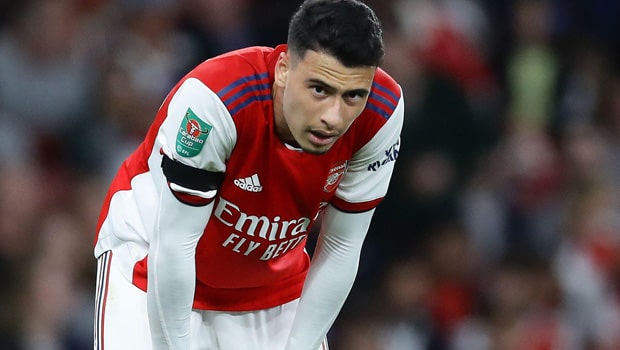 Arsenal manager Mikel Arteta has revealed that he has no intention to send out Gabriel Martinelli on loan after the Brazilian forward has struggled for minutes this season. The 20-year-old has only played 150 minutes in the Premier League over two matches. Overall he has only featured four times for Arsenal this season.
The last time he featured for the club was back in September when he started in the Carabao Cup against AFC Wimbledon in a 3-0 win. But despite his lack of gametime, Arteta feels that Martinelli is still in his plans as he does not want him to go out on loan.
When asked about Martinelli's lack of gametime this season, Arteta said, "Because of the amount of players that we have in those positions, first of all.
"He had some games that he played, he started against Brentford and he started against Chelsea as well.
"Unfortunately he got injured last week, it is a minor injury but we don't know if he is going to be available for Monday but we have a lot of trust with Gabby and we need to find the right space for him to grow within the squad."
Arteta admitted that the Brazilian has been a sensation for Arsenal scoring 10 goals in his debut campaign. But the injuries that he has suffered has taken a toll on him.
The 20-year-old has been sensational for Arsenal but since his injury, he has not looked the same. He is gradually trying to regain his form but getting gametime has been a big question mark for the youngster.
It is very tough for Martinelli as he is competing with the likes of Pierre Emerick Aubameyang, Alexandre Lacazette, Nicolas Pepe, Bukayo Saka and Emile Smith Rowe, among attacking options.
But despite him not getting gametime, Arsenal are not looking to allow Martinelli to leave on loan as he is very much in Arteta's plans this season.
When Arteta was asked whether a loan move will be beneficial for the youngster or not, the Spaniard said, "No, I'm very happy with him and we aren't thinking about anything like that."
Leave a comment