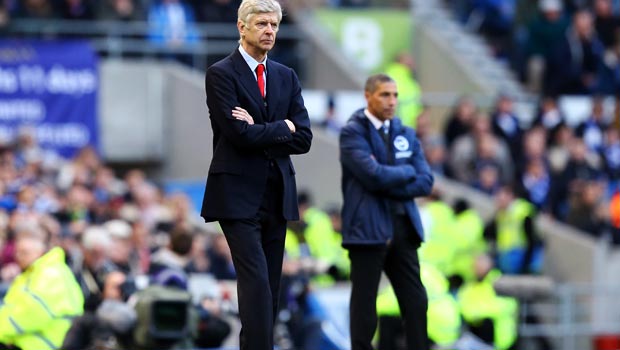 Arsenal boss Arsene Wenger has played down suggestions his side are now the favourites to win the FA Cup again this season after a number of rivals crashed out at the weekend.
Chelsea, Manchester City, Southampton, Swansea and Tottenham all failed to make it past the fourth-round stage while Liverpool, Manchester United and Sunderland were taken to replays by lower-league opposition.
The Gunners won the FA Cup last season to end a nine-year drought and remain on course this term after beating Championship outfit Brighton 3-2 at the Amex Stadium on Sunday.
Wenger was cagey post-match when asked if the north Londoners are now the side most fancied to go on and taste victory at Wembley on May 30
He told the club's website: "The cup is the cup – what you want is to focus on the next round to go through. We have a good experience from last season to know that every round is difficult.
"The most difficult games were not especially the expected ones last season, so let's wait for the draw. Of course we'll fight and we want to retain our cup but there's too long to go to say [that Arsenal are favourites].
Theo Walcott, Mesut Ozil and Tomas Rosicky were all on the scoresheet against Chris Hughton's Seagulls and Wenger felt the Gunners could have been more clinical in front of goal.
He added: "I believe our performance was good and there was room to score more goals with the chances we created. Overall what you want first is the quality of the performance and to go through.
"They had two shots on target. When you play away from home and the other team had two shots on target – overall I think we produced the performance I expected."
Next month Arsenal have the chance to break into the top four of the Premier League as they play Aston Villa, Leicester and Crystal Palace while the Gunners also travel to Tottenham for the north London derby on February 7.
Leave a comment