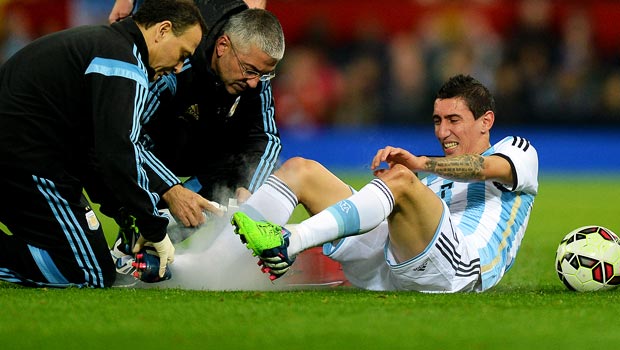 Argentina coach Gerardo Martino says the injury sustained by Angel Di Maria during their friendly with Portugal is "nothing serious".
The Manchester United winger was forced off during Argentina's 1-0 defeat at Old Trafford after being caught on the foot by Nani in the first half.
The £59.7m signing carried on playing until the hour mark but concerns were raised over his fitness when Martino revealed he was taken to hospital for X-rays after the match.
But the Argentina coach quickly allayed fears of a long injury layoff ahead of the return to Premier League football this weekend.
"We don't think it is anything serious. It was quite a tough blow that he took," said Martino. "It was a tough knock. It cut the skin a little bit. But we have had a look at it and we are evaluating the situation.
"We are having a look at some X-rays, some images that have been taken but in spite of that we don't think it is too serious."
Di Maria later took to Twitter and revealed he hopes to be fit in time for Manchester United's clash with Arsenal at the Emirates Stadium on Saturday night.
He wrote: "It was just a blow. I hope it does not swell anymore so I can play at the weekend."
Manchester United are 3.21 to beat Arsenal while the Gunners are 2.20 to take all three points.
Leave a comment