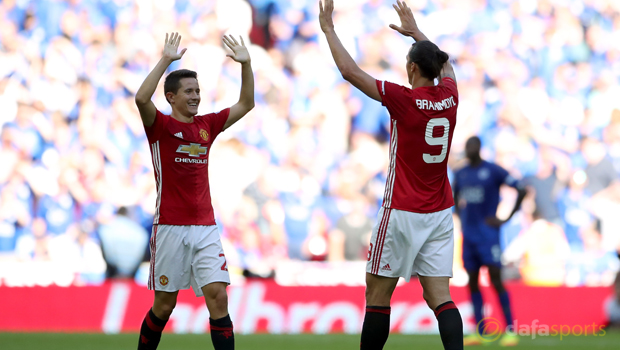 Manchester United

midfielder Ander Herrera has admitted that striker Zlatan Ibrahimovic has raised the standards at the club since his summer arrival.
The Swede, who retired from international duty following Euro 2016, arrived at Old Trafford on a free transfer from Paris Saint-Germain.
He has since scored four goals in the Premier League to help United climb to sixth in the league table and Herrera has said his impact in training has given everyone a boost.
Ibrahimovic has played a key role up front on his own for the Red Devils so far this season and Herrera admits his influence is helping the squad.
He told the club's official website: "He's unbelievable. He doesn't lose one training session. He trains every day at his best trying to get everyone at their highest level.
"He is very, very aggressive and demanding but in a good way because every day he wants to win every training session, and he wants everyone with him to win, to keep working, so we are very lucky to have Zlatan with us.
"If you see a game and you didn't know Zlatan's age you could think he was only 28 or 29 and that is good for us. "He's an example for every one of us, not just the young players.
I am not young, not old, I'm in the middle at 26 and he is an example for me as well. When you behave as a professional you can be at a top club at 35."
Ibrahimovic and Herrera will be hoping to help United climb the table even further in the coming weeks as they try to win the title, for which they are priced at odds of 15.00.
Leave a comment