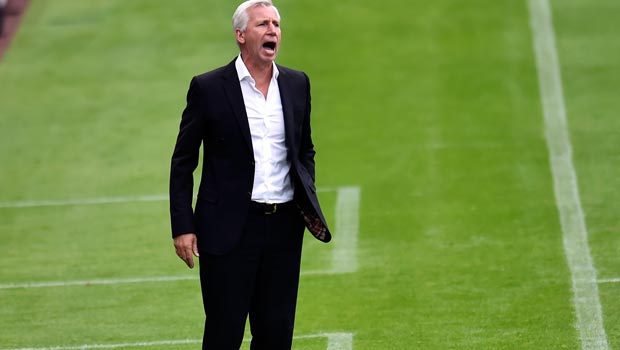 Newcastle boss Alan Pardew has shrugged off criticism from fans and insists results will soon start to pick up for the Magpies.
A recent local newspaper poll did not make for happy reading for Pardew, with the supporters who took part admitting they were dissatisfied with the start to the season.
Newcastle are yet to win in the Premier League in three games and while the opening defeat to Manchester City was no shock, the failure to beat either Aston Villa or Crystal Palace has not helped Pardew's prospects.
However, the 53-year-old insists it is still early days with regard to the new campaign.
He said: "I think we're good enough this year and I think our results will reflect that.
"We have not won a game yet, so the teams that haven't won a game, the pressure is on those particular managers – more so on me because of the back end of last year, when we weren't good enough."
Newcastle travel to Southampton, one of Pardew's former clubs, on Saturday afternoon and are 4.66 to secure an away win. The Saints are 1.75 to take all three points with the draw 3.52.
Meanwhile, behind the scenes it has been reported Magpies owner Mike Ashley is looking to sell up in order to buy fallen Scottish giants Rangers.
However, Pardew insists Ashley remains as committed to the club as ever.
He added: "I've heard no suggestion from him or any signs from him. He's obviously given us money to spend this summer, which we have hopefully spent well, but only time will tell on that.
"His commitment to the club is as strong as it's always been."
Leave a comment