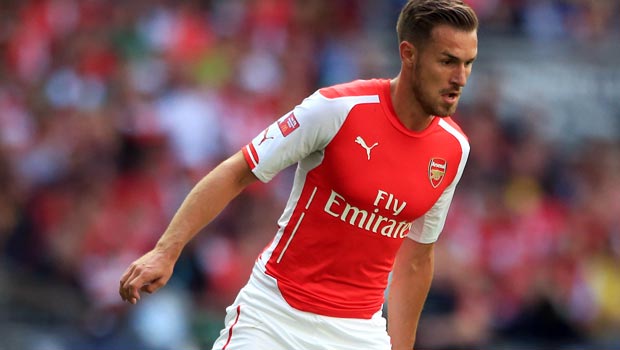 Arsenal midfielder Aaron Ramsey says the Gunners will not be bullied out of the Premier League title race and they will be up to the physical challenge.
The Gunners have in the past struggled against teams who have adopted a physical style of play, and again there have been suggestions it could be their Achilles heel in this campaign as well.
Manchester City and Chelsea have the size in their squad to battle it out when things get tough, but Ramsey insists Arsenal's lack of size will not work against them.
"Manchester City are a big team and Chelsea are a big team," he said. "It's all about opinions. We're quite a small team by comparison and we like to get the ball down. Maybe they won't be as agile and we can play around them.
"It helps those teams with power and drive but I'm sure we'll be playing the other way."
Arsenal are priced at 5.80 to win the title this season, but Ramsey says it will be harder than ever, and has dismissed the notion it is a two-horse race.
He added: "It's going to be more difficult to win it because I think there are six teams now. The so-called bigger teams are going to drop points throughout the season. The key when that time comes is to go to the next game and get back to winning ways.
"It's a long season and I'm sure there are going to be many twists and turns. There's going to be a few teams fighting for it."
The Gunners face a tough trip to Everton on Saturday and are priced at 2.51 to leave Goodison Park with the win. The home side are 2.79 with the draw 3.19.
Leave a comment