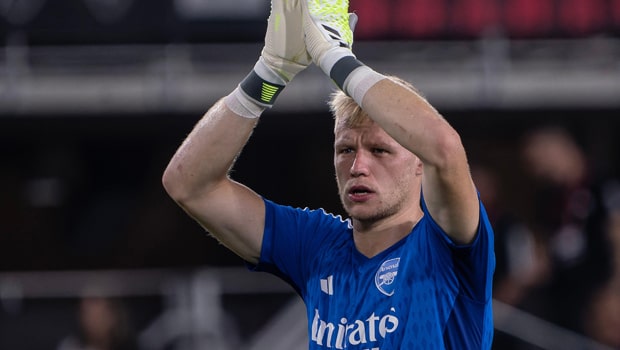 Arsenal's goalkeeping situation has taken an intriguing turn as Aaron Ramsdale, who initially established himself as the Gunners' first-choice goalkeeper, found support from the least expected source – David Raya, the man who now occupies his position.
Ramsdale, 25, had quickly become Arsenal's primary goalkeeper after his arrival at the club in the summer of 2021. However, in recent weeks, it's been Raya who has been entrusted with the role, starting in Arsenal's last four Premier League games.
During the international break, Ramsdale expressed the emotional toll he has been experiencing due to his current situation at the club, admitting he is "suffering and hurting." Surprisingly, it is his rival, David Raya, who has been instrumental in helping him through these challenging times.
Ramsdale shared during his time with the England national team, "There are days when I come in and I'm down because of the situation and he picks me up. For whatever reason, there might be a day where he's down, and even though I'm suffering and hurting for not playing, I have to stand up and push him, ensuring he's ready if he's chosen to play."
Arsenal's manager, Mikel Arteta, has faced criticism for his decision to begin the season with two goalkeepers of No.1 caliber. Pundits, including Gary Neville, have questioned this approach. Even former Arsenal goalkeeper Bernd Leno, who was displaced by Ramsdale before leaving the club, has raised concerns about the unusual situation.
David Raya arrived at Arsenal during the summer, initially on a £3 million loan deal. The club has an option to make the transfer permanent for an additional £27 million next year. This significant financial commitment may imply that Ramsdale's prospects of regaining his starting role are in jeopardy in the long term.
The Arsenal goalkeeper battle adds an intriguing subplot to the Gunners' season, leaving fans and analysts wondering how the situation will unfold. As the competition between Ramsdale and Raya continues, the impact on the club's performance remains to be seen. Arsenal supporters will be keeping a close eye on Mikel Arteta's selections in the coming weeks as the team strives to secure its footing in the Premier League.
Leave a comment