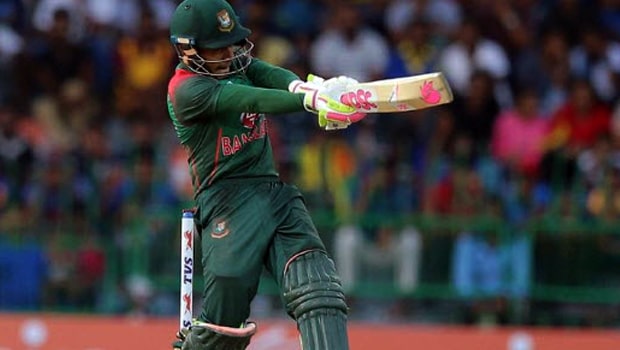 India: 148-6 (20 overs)
– Dhawan 41, Aminul 2-22, Shafiul 2-36
Bangladesh: 154-3 (19.3 overs)
– Mushfiqur 60*, Sarkar 39
Bangladesh has defeated their host India by seven-wicket to record their victory against India for the first time in Delhi.
The visitors finally succeeded in achieving the feat after eight previous attempts. Bangladesh put in India and made 148-6. India hit 148-6 (20 overs). From the score, Shikhar Dhawan contributed three fours and a six in 41.
Bangladesh's Mushfiqur Rahim was on top of his game. In the encounter, the wicketkeeper struck 60, which India was unable to beat, and skipper Mahmudullah was also handy for the hosts hitting a six to win the match, making the visitors win the 1,000th men's T20 international to be played 154-3 (19.3 overs) with three balls to spare.
Meanwhile, the second of the three-match series holds on Thursday in Rajkot. In the Sunday clash, Mahmudullah out ran Dhawan in the 15th over after a change of mind over a second run.
Although India's game was boosted by a left-handed batsman, Washington Sundar and all-rounder Krunal Pandya who hit two sixes from the final three balls of an innings after the visitors had used eight bowlers.
To win the game, Bangladesh needed 22 with two overs of the match remaining. Mushfiqur, therefore, succeeded in hitting four successive boundaries off left-arm seamer Khaleel Ahmed, scoring his last 31 runs from only 13 balls.
26-year-old Shivam Dube, who made his debut, got an opportunity with the final over. The seamer delivered on the four runs needed. The newly appointed captain, Mahmudullah, strode down the wicket to dispatch Shivam over mid-wicket for six.
Mahmudullah was named as T20 captain during the week after Shakib Al Hasan was suspended for a year by the International Cricket Council for failing to report corrupt approaches. The 32-year-old all-rounder accepted three charges relating to requests for "inside information for betting purposes." He has played 338 matches for Bangladesh.
Due to the air pollution being experienced in India, most of the visitor's players and coaches wore protective masks during training leading up to the game.
Leave a comment