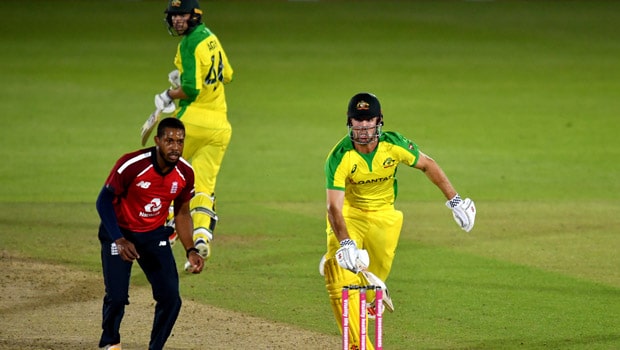 Australia has regained their position as T20 number one after beating England by 5 wickets with three balls to spare in a series of 3 matches that took place over 5 days in England. Mitchell Marsh helped his side score 39 without going out to help his side finish with 146-5, winning the match. Despite winning the last match, Australia lost the series as the host team already has a 2-0 lead going into Tuesday's game.
Australia entered the game chasing 146 for a series win. Things would have gone the way it did in the first match had Marsh not scored an unbeaten 39. Australia managed to survive the onslaught of Adil Rashid who hurt their chances for 3 wickets. That saw Australia drop from 70-1 to 100-5. It was Marsh's 39 that was the real turnaround and made the difference in helping Australia win the game. Ashton Agar also helped his side with 16 not out to clinch the win on the final day.
England played Tuesday's game in the absence of Captain Eoin Morgan who had to sit out due to an injury. Moeen Ali took his place but was unable to steer the boys to greatness. Jos Butler was also absent. Things went further south for the home team after dropping three catches and failing to dismiss Marsh or Rashid.
Speaking after the match, Ali attributed England's failure to lack of pressure like they had seen in the first match, saying, "We saw in the first game when we put Australia under pressure they crumbled. I felt they could have done that again and if we had taken those chances we would have won the game for sure. The incentive was there to be no 1 in the world. I think it was a lack of intensity. Generally, we were slow and poor in the field and we have to put that right if we want to win the World Cup."
England missed the chance to win a 3-0 whitewash for the first time in a T20I series at home. They also come second as Australia tops T20 rankings.
Leave a comment