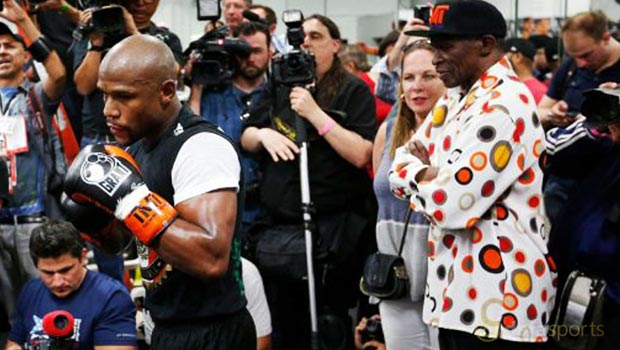 Ricky Hatton believes Floyd Mayweather may have made a mistake by choosing his father as his trainer for his upcoming fight with Manny Pacquiao.
After years of avoiding each other, arguably the two greatest fighters of their generation are finally set to do battle in Las Vegas on Saturday in what is being dubbed as the biggest bout ever.
The clash will almost certainly be the unbeaten 38-year-old Mayweather's penultimate outing before he retires and both men know that the result will quite possibly define their careers.
After recently being reunited following a very public falling out at the turn of the century, Mayweather has been working with his father, who is also called Floyd, in the build-up to the fight.
Hatton worked with Floyd senior during the latter stages of his career and has admitted that he improved his defence massively.
However, having himself lost to Pacquiao with the trainer in his corner, the 36-year-old says he remains unconvinced by some of his methods and believes his lack of tactical acumen could cost 'Money' on May 2.
"He taught me a lot, he taught me a new side to the game in many ways," he said. "He was a very good defensive coach and when I fought Paul Malignaggi it couldn't have gone any better – that was probably the best fight I produced since that Kostya Tszyu fight.
"Having said that, the training didn't go quite as well for the Pacquiao fight. The tactics could have been better, there wasn't too much method there."
With less than a fortnight to go, Mayweather is currently the 1.44 favourite to win the bout, while the draw is 23.00 and Pacquiao is priced at 2.75.
Leave a comment