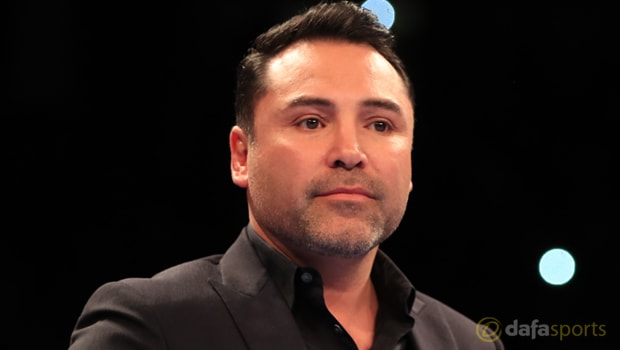 Retired boxer Oscar De La Hoya believes he can knock out UFC lightweight champion Conor McGregor in two rounds after revealing he has been training in secret.
The 44-year-old has not taken to the ring since retiring in the eighth round of his fight with Manny Pacquiao in December 2008.
De La Hoya confirmed his retirement in April 2009 and subsequently ended growing speculation about a potential fight with Julio Cesar Chavez Jr.
The former six-weight world champion, who was ranked the top pound-for-pound fighter in the world in 1997 and 1998, has not previously hinted at coming out of retirement, but he has now teased a return.
The Golden Boy has claimed that he could dispatch McGregor in much quicker fashion than Floyd Mayweather managed earlier this year.
Mayweather triumphed via a TKO decision in the 10th round as McGregor gained some credibility in the world of boxing after crossing over.
However, De La Hoya believes he can be the man to put McGregor in his place and insists he still has one more fight in the tank.
De La Hoya told Golden Boy Radio: "You know I'm competitive. I still have it in me.
I've been secretly training. I'm faster than ever and stronger than ever. I know I can take out Conor McGregor in two rounds.
"I'll come back for that fight. Two rounds. Just one more (fight). I'm calling him out. Two rounds, that's all I need. That's all I'm going to say."
Leave a comment