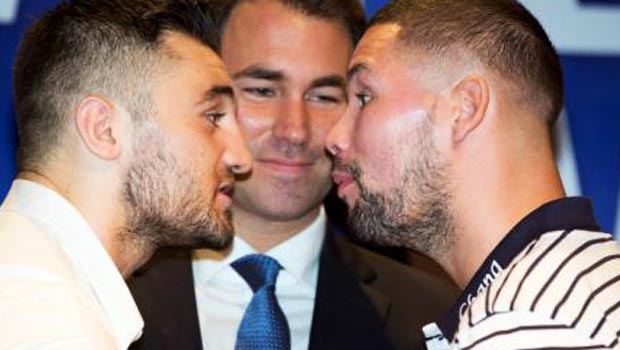 Nathan Cleverly has guaranteed a knockout win against British nemesis Tony Bellew in their eagerly-awaited cruiserweight showdown in Liverpool on November 22.
The Welsh boxer has already tasted victory against the Liverpudlian in his own backyard at the Echo Arena when he secured a majority decision against him in October 2011 and retained his WBO light-heavyweight title in the process.
Cleverly went on to lose his belt following a knockout defeat to Sergey Kovalev last year while Bellew's fortunes in that weight division also hit the buffers with a loss at the hands of Adonis Stevenson in Quebec last November.
The duo have since moved on to fight at cruiserweight and are now on a collision course for a rematch just over three years after their first meeting.
Merseyside will again play host to the fight which should be an advantage to Bellew, but Cleverly is in no doubt that he will do the job properly on his rival this time and ensure he does not make it through the 12 rounds.
Cleverly said: "Many people have asked me why I am going back to Liverpool to fight Tony Bellew again and the answer is simple – I don't like him.
"He talks too much and although I've beaten him before in front of his home fans, I am going to KO him this time around. He will not hear the final bell, I can guarantee you that. I will deal with him.
"The is my fifth time in Liverpool, hopefully it's going to be my fifth success. I've been here four times before, victorious four times before, and I'm going to make it five times in a row."
There is plenty of bad blood between the pair and Bellew responded by insisting that he will not only come out on top this time, but end Cleverly's career in the process.
Bellew said: "I have been waiting for this fight for three years and now it is here revenge is the only thing on my mind. This is a chapter in my life that I need to close and I will do that by ending Nathan Cleverly's career on November 22.
"I am in the sport to be successful and win titles but this fight means more to me than any of that – this is personal, and he will not want to enter a boxing ring after I have finished with him."
Leave a comment