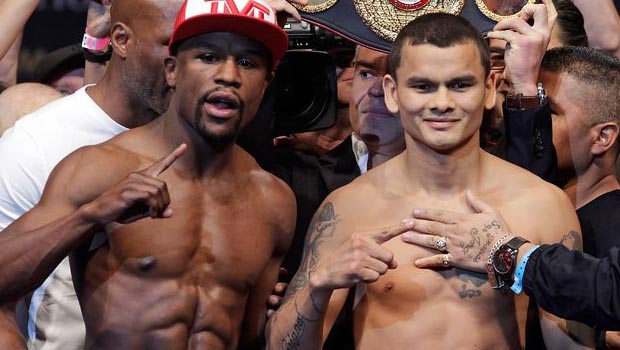 Marcos Maidana has told Floyd Mayweather to "stand and fight like a man" when they meet for a rematch on September 13 at MGM Grand Hotel & Casino in Las Vegas.
Unbeaten superstar 'Money' won a majority decision over the Argentinian brawler in May and will put his World Boxing Association and World Boxing Council titles back on the line later this month.
The 31-year-old Maidana, nicknamed 'El Chino', has said he is prepared to chase Mayweather down so that the American gets dragged into a bar brawl and reiterated his claim he will be on the front-foot from the start.
"I'm going to be on him from the opening bell," Maidana said. "I'm going to try and force him to fight."
He added: "I'm preparing for anything. If he's going to run like a little b**** I'm going to have to chase him and I'm prepared to do that.
"It's difficult to knock out Floyd because he runs but I will try my best and we will see what happens. I want him to stand and fight like a man. Stop crying like a little b**** and fight."
Maidana, 35-4 with 31 knockouts, felt he matched Mayweather in the opening rounds of their first fight and revealed he has worked out where he went wrong.
"I just have to make a few adjustments, land a few more punches," Maidana said. "I know what to expect. I know what Mayweather brings to the table. I know what I have to do to win."
Mayweather has only ever once previously agreed to a rematch – against the then number-one ranked lightweight Jose Luis Castillo in 2002 – but it will be a first double-header for Maidana.
"I think it benefits me more," Maidana said. "I'm able to correct the mistakes I made in the first fight. He makes very few mistakes but I know what they are now and I know how to exploit them more."
Leave a comment