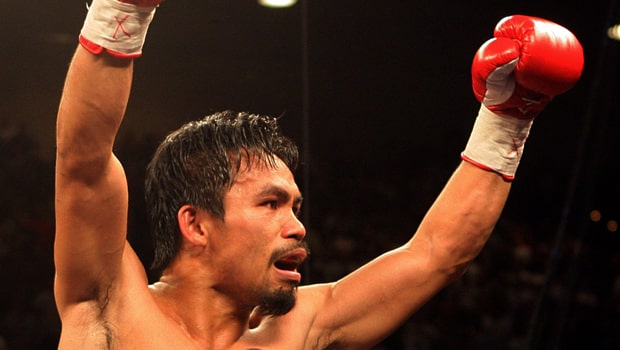 Manny Pacquiao became the oldest welterweight champion in history after beating WBA Super champion Keith Thurman on Saturday night in Las Vegas.
The Filipino knocked Thurman down in the first round, before then recording a split decision victory in front of the American fans. The 40-year-old tired towards the end of the bout but still showed signs of his blistering hand speed as he kept Thurman at bay.
Two judges scored it 115-112 to Pacquiao, while the other gave it 114-113 to Thurman as he lost for the first time in his career. Thurman had claimed he would retire the veteran but was quick to praise him after the bell.
"I knew it was too close," Thurman told US broadcasters. "He got the knockdown so he had momentum in round one. This was a beautiful night of boxing. "I wish I had a little bit more output to go toe to toe.
I felt like he was getting a little bit tired, but he did have experience in the ring. My conditioning, my output, was just behind Manny Pacquiao. It was a great night of boxing. I'd love a rematch. "I want to thank the fans. I want to thank everybody for coming out. Manny Pacquiao is a great, truly great champion."
Pacquiao, an eight-weight world champion, will now return to work as a senator before deciding his next move. Britain's Amir Khan claims the pair have agreed to fight in Riyadh on November 8, but Pacquiao has denied he had agreed to those terms.
Leave a comment