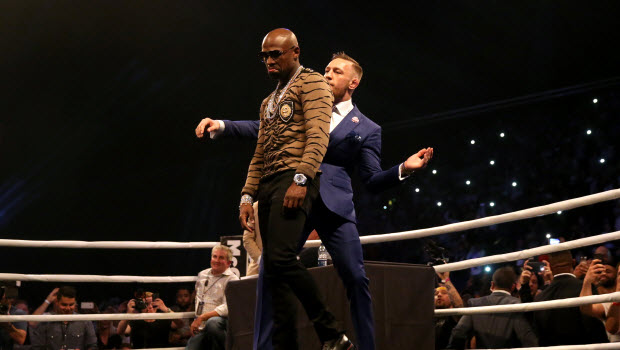 Former two-weight world champion Paulie Malignaggi says Floyd Mayweather will have no problem in beating Conor McGregor if he regularly goes to the body.
Both fighters are preparing for the sensational boxing match at the T-Mobile Arena in Las Vegas on August 27 although McGregor has come under huge criticism for his latest actions.
The UFC star had been sparring with Malignaggi but the latter decided to leave the training camp after saying the Irishman used him like a pawn, disrespected him in the dressing room and housed him and the other sparring partners in dumpy accommodations.
Numerous pictures were posted on social media that appeared to suggest the former boxing champion was being schooled in the sessions whilst one hinted he had been knocked out. The 36-year-old American has labelled McGregor a "scumbag" whilst also giving undefeated Mayweather, who would go 50-0 with victory, an insight into the best way to beat the mixed martial artist.
"From about six rounds on, he became very hittable," Malignaggi said in an interview with American website The MMA Hour. "So much more hittable that I was putting more weight on my shots and sitting down more on my shots, and of course, the body shots started to affect him more and more.
"In MMA the body shots aren't the same as in boxing in that there is consistency to body shots in boxing. There is a debilitating breakdown from the body shots in boxing. Little by little you feel the air come out of you with fatigue."
Mayweather, who came out of retirement to take the fight, is the firm 1.14 favourite to win the bout, a draw is priced at 29.00 whilst McGregor is a 5.50 chance.
Leave a comment