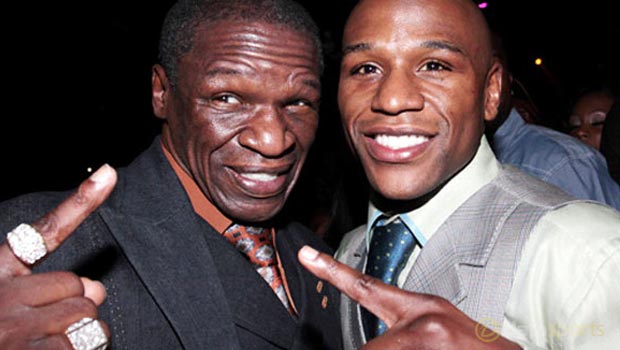 Floyd Mayweather Snr is confident that his son will knock out Manny Pacquiao after claiming he has prepared accordingly for Saturday's mega-fight in Las Vegas.
After five years of waiting, boxing fans will finally get to see the two modern-day greats face-off when they meet at the MGM Grand.
Mayweather decided to return to old-school methods of training for his camp but his father insists he has worked harder than ever in his quest to beat the crowd-favourite Pacquiao.
Pacquiao arrived in Las Vegas on Monday in a relaxed mood, but Mayweather Snr insists he will have his work cut out come fight night.
Although the majority of the boxing world is expecting Mayweather to extend his unbeaten record to 48 fights, Pacquiao fans are hopeful the difference in styles will give the Filipino the edge.
Mayweather said he was the best fighter of all time in an interview last week and his father seemingly agrees with the brass claims.
Ahead of the fight, Mayweather Snr insists his son is 100 per cent ready to pick up another win in his illustrious career.
When asked about a knockout victory, he said: "110 per cent.
"I'm going to give you the honest truth. Floyd may be working a little bit harder than he normally would.
"It's not a strategy, it's not a plan, it's nothing. He's just a normal opponent who is going to get his ass whupped.
"In a situation like this we take it serious. If I see somebody say he's going to whup me, I'm going to take it serious. He is totally prepared and we're going to make sure we run Pacquiao out of this town."
Mayweather is currently priced at 1.44 to win with Dafabet, with the draw 17.00, while Pacquiao is available at 2.88.
Leave a comment