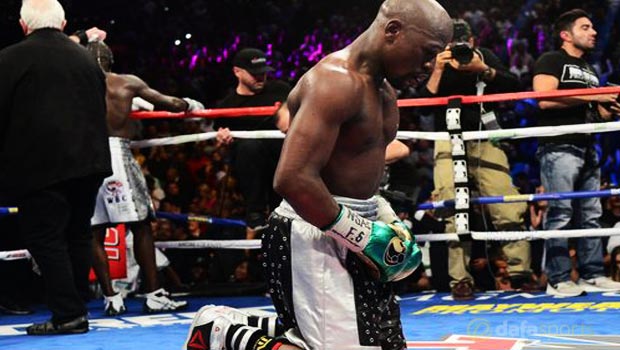 Floyd Mayweather insists he will not be tempted back into the ring after Saturday's points victory over Andre Berto in Las Vegas.
The American star matched Rocky Marciano's career record of 49-0 with his win over Berto.
Mayweather has always maintained it would be his last fight but some have suggested he could be tempted to fight on and claim the record outright.
However, the 38-year-old five-weight world champion stressed after the fight he intends to hang up his gloves for good.
"My career is over, that's official," he said. "You've got to know when to hang them up. I'm close to 40 now. There's nothing left to prove in the sport of boxing. Now I just want to spend time with my family."
Berto, a two-time welterweight world champion, did manage to cause Mayweather the occasional problem, particularly in the sixth and seventh rounds, but at no stage did an upset ever seem likely.
Mayweather won by unanimous decision as he was awarded a 120-108, 118-110 and 117-111 victory.
If there is any chance he could be tempted back into the ring a rematch with Manny Pacquiao is one option, while Britain's Amir Khan would also jump at the chance and it remains to be seen as to whether Mayweather will stick to his word.
The world of boxing will now focus on the upcoming heavyweight world title fight between champion Wladimir Klitschko and challenger Tyson Fury next month. Klitschko is 1.22 to win, Fury can be backed at 4.20 and a draw is 26.00.
Leave a comment