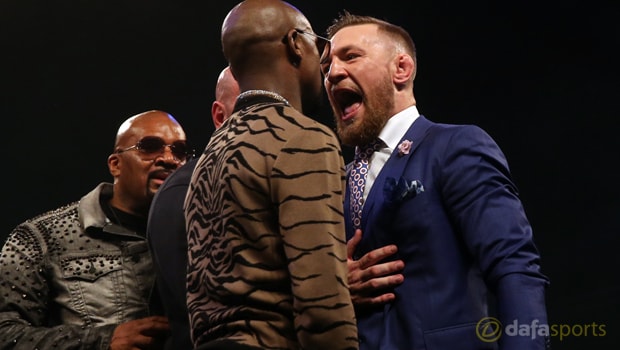 Two-weight UFC champion Conor McGregor insists he could stop Floyd Mayweather inside two rounds when the pair meet this weekend in Las Vegas.
The Irishman is the huge underdog for the fight at the T-Mobile Arena in Las Vegas but he will get the chance to prove his skills on Saturday night.
The fight has been heavily criticised by a number of boxers and former pros but McGregor insists his ability is being overlooked.
Mayweather will look to extend his record to 50-0 with a win this weekend but McGregor is determined to make a name for himself in both boxing and UFC.
The 29-year-old insists he is pleased that both men will wear 8oz gloves and the Irishman is adamant that he can play with his rival or finish him inside the first six minutes.
He told Sky Sports News: "Respect for me is earnt through battle.
"If he stands in there and speaks his word of what he's been saying, if he can get in there and implement these and come forward and give the fight he's been talking about, he will have my respect.
"I wouldn't be surprised if I go out there and flatten him in the first exchange, I don't see him lasting two rounds in these 8oz gloves," he added.
"Part of me wants to showcase a little more, we'll see, I don't believe he will last two rounds – believe he will be unconscious before then."
McGregor is priced at 15.00 to win the fight inside the first round, while he is also available at odds of 17.00 to win inside the second with Dafabet this weekend.

Leave a comment