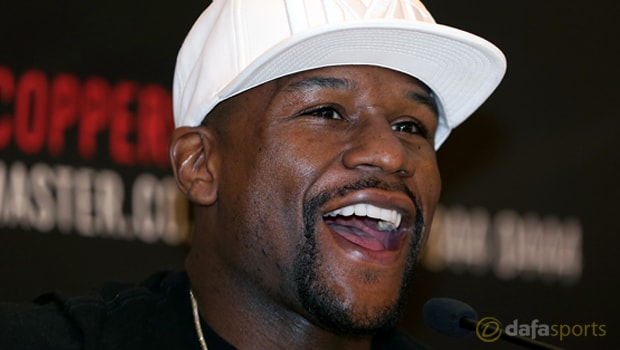 A potential bout between the pair has been mooted for some time, but it has now moved a step closer after McGregor finalised his negotiations with UFC president Dana White.
The Irishman has confirmed that he has put pen-to-paper on the deal and they are now just waiting for former five-division world boxing champion Mayweather to follow suit.
"The first, and most important part of this historic contract has now officially been signed off on," McGregor said in a statement to themaclife.com.
"Congratulations to all parties involved. We now await [Mayweather's adviser] Al Haymon and his boxer's signature in the coming days."
White also confirmed the news of McGregor's commitment to the fight, although he insists there is still a long way to go before a potential bout is confirmed.
"The McGregor side is done," White told ESPN. "I'm starting to work on the Mayweather side now. "I'm not saying the fight will happen, but I've got one side done, now it's time to work on the other.
If we can come to a deal with Haymon and Mayweather, the fight's gonna happen."
McGregor has won 21 of his 24 professional mixed martial arts bouts to date and he is a two-division world champion, while Mayweather has won all 49 of his professional boxing fights, although he has not been in the ring since retiring from the sport in 2015.
Leave a comment