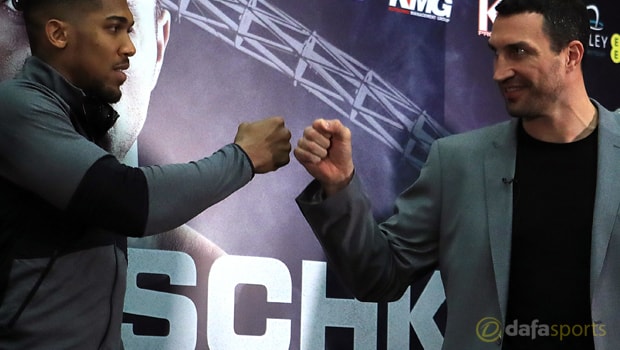 Wladimir Klitschko says his full attention is on Anthony Joshua ahead of their world heavyweight title showdown on Saturday.
The Ukrainian star is bidding to reclaim most of the titles he lost to Tyson Fury in November 2015 at Wembley this weekend, as Joshua now holds the IBF strap and the pair are also contesting the vacant WBA and IBO crowns.
It has been suggested the 41-year-old could decide to call time on his career regardless of the result on Saturday, but Klitschko insists he plans to fight on.
However, Klitschko insists he isn't distracted by what potentially lies ahead and is concentrating solely on seeing off Joshua.
Joshua himself has been drawn into a spat with Fury in the build-up to the fight. But Klitschko has no interest in trading barbs with anyone else before his world title bid.
"Joshua is preparing for the 29th April so he is better to keep his focus on the 29th and not react to anything else," he said, as reported by Sporting Life.
"It looks like 'AJ' knows what he's doing and as I said, he is very ambitious; let him react to whatever dogs are barking around.
"I am more focused on myself and my ego; I don't care about Joshua and Fury or whatever dog fight he got into."
He added: "Hopefully I have a couple of years left in me. I was always saying health and motivation is very important.
"If one of those things is missing then it doesn't make sense to continue. In regards to pressure, it's just enjoyable.
Anthony Joshua is a great fighter, I'm taking the best out there to be the best."
Klitschko also lost the WBO title to Fury and that prize is now held by New Zealand's Joseph Parker, who could be a potential future opponent for the winner of Saturday's fight.
Klitschko is 3.00 to beat Joshua on Saturday and 7.00 to win on points.
Leave a comment