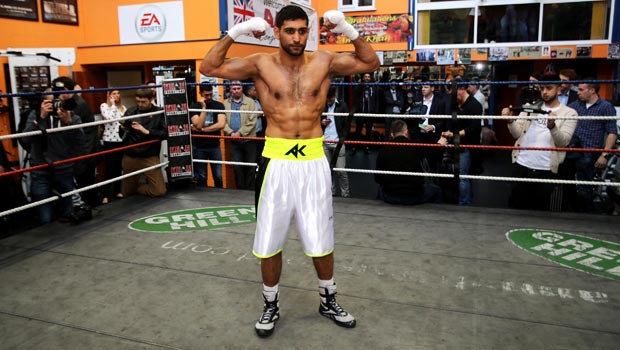 Amir Khan insists he is willing to take on Kell Brook in a bid to finally put an end to their bitter rivalry.
The two former England amateurs have been heavily involved in a war of words for some time, with Brook desperate to prove he can beat the former world champion.
Khan and Brook sparred together while in the England amateur squad with both claiming they got the upper hand in the exchanges.
Since turning pro, Brook has failed to win a world title after three opportunities were cancelled due to injury. On the other hand, Khan has won two world titles in the 140lb division and he looked back to his best in his last outing against Luis Collazo.
Khan has now moved up to welterweight, the same weight that Brook is hoping to win a world title as he eyes a fight against Shawn Porter.
The Bolton man insists a big fight could happen but he is eager to see how his rival gets on against the powerful Porter.
He told the Toe 2 Toe podcast: "There are big fights for me in the future. A fight like that in the UK would be massive because we've got two guys who have that rivalry.
"We're not friends but we've sparred each other. He says he got the better of me, but I know I got the better of him and he knows that deep down, but he still won't admit it.
"We have never seen Kell in a tough fight like the likes of Shawn Porter and other big names, but it's going to tell us what Kell Brook is all about.
"If he wins this fight, that definitely puts him in a good position to fight me and that fight can then happen because he's proven himself and he's a world champion.
"Even if he beats Shawn Porter, regardless of stopping him, I'll take the fight."
Leave a comment