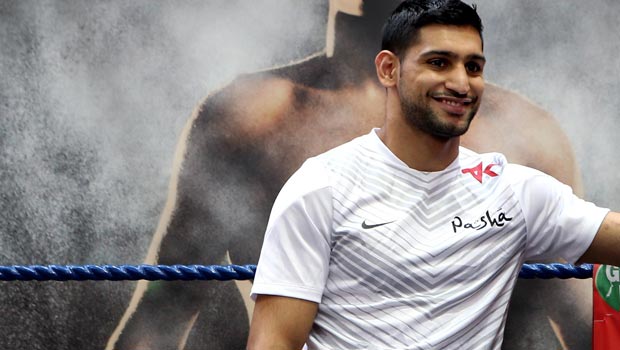 Chia sẻ bài viết

Nhận khuyến mãi
Nhận 25% khuyến mãi gửi tiền lên tới 2,000,000 VND

Amir Khan insists that he has 'all the tools' to beat Luis Collazo when they meet on Floyd Mayweather's undercard in Las Vegas on Saturday night.
The 27-year-old will make his long-awaited return to the ring at the MGM Grand as he looks to put himself in pole position to face boxing's pound-for-pound king Mayweather by beating Collazo.
The Bolton-born fighter appeared set to take on the undefeated American but Mayweather opted to face Marcos Maidana instead.
Khan will now make his debut in the welterweight division against Collazo, who has won his last four fights, including an impressive second-round knockout victory over former welterweight champion Victor Ortiz.
Former light welterweight world champion Khan believes that if he can dazzle on Saturday night then he will be next in line to take on Mayweather.
Khan said: "As long as I put on a great performance I'll earn that shot.
"But, to be honest, I'm not looking past Collazo. I need to win this fight and take it from there. I need to put on a good performance and we'll see what happens.
"It's going to be a hard fight. It will be tough and exciting, but I think I have all the tools to beat him."
The Brit last entered the ring almost a year ago and was less than convincing against Julio Diaz – earning a narrow points victory.
However, Khan insists he is confident that welterweight is a division he can settle in and says that he has been able to improve on his technique courtesy of trainer Virgil Hunter.
He continued: "You'll definitely see a different Amir Khan coming into this fight because I've had a lot of time to work on things, and work on new strategies, and also work with my trainers, Virgil Hunter and also my strength conditioner, Tony Brady. So, I know I'm going to be ready in this division, and I can't wait to step in the ring."
Leave a comment