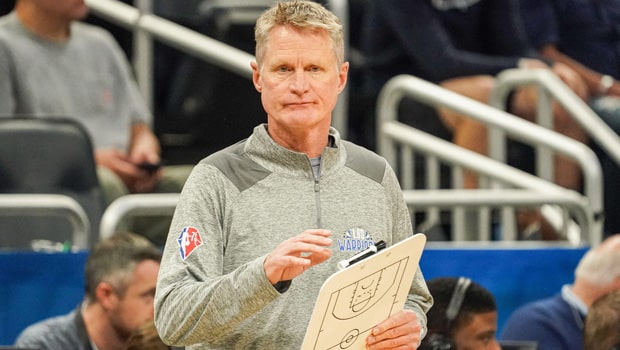 Golden State Warriors were able to seal their playoff berth in the ongoing NBA 2021-22 season as they bested Utah Jazz by 111-107 on Saturday night. Earlier, GSW was reluctant to give their thoughts on the Western Conference standings but before their clash against the Jazz, they knew what was at stake.
The Dubs were able to snap their four-game losing streak as they brought their best to the table. Klay Thompson came up with a fine performance as he top-scored with 36 points, shooting 14/28 from the field.
"Oh yeah, [we were] well aware," Warriors coach Steve Kerr said. "We didn't talk about it a whole lot as a team, but the guys know. … I told it to the coaching staff, and Steph [Curry] said it to a couple of the guys."
In fact, GSW has struggled to get going in the recent past as they had managed a solitary win in their last eight matches before their win against the Jazz.
Jordan Poole, who played a key role in the team's win with 31 points, revealed it was Draymond Green's pep talk that lifted the team during the time out.
"He just brought a lot of energy. Giving guys motivation and picking us up, especially in a pressure moment like that," Jordan Poole said. "What he says projects to the entire team. We were able to just ride that momentum."
Kerr lauded the collective team effort of his side as they finally brought their best to the court and won the crucial junctions of the game.
"What a performance," Kerr said. "I was amazed by the skill of Klay and Jordan. The emotion and passion from Draymond, and the methodical defense and energy from Andrew and Otto [Porter Jr.] An unbelievable performance down the stretch by our guys."
In fact, Klay Thompson had been struggling in the last few matches and this performance would have certainly added a shot in his arm.
"We've seen it a million times: If Klay just sees the ball go through the hoop a couple of times, he can make the bad ones too," Kerr said. "I didn't think this was a dramatic improvement in terms of shot selection, but I think the fact that that midrange shot was there … that allowed him to get into a rhythm and then he started making the impossible ones."
Added Thompson: "I know I can flip a switch just like that. I knew this year would have its ups and downs, and I just told myself yesterday that it's one game and I will move on. I told Kenny Atkinson that I felt like I was going to have a big night tonight, and it came to fruition. I'm happy it did."
GSW will next face Sacramento Kings on Sunday night.
Leave a comment