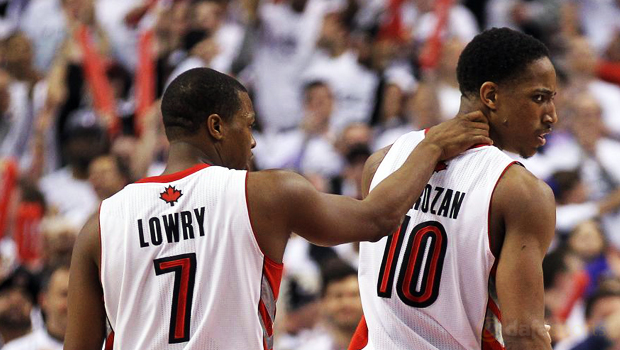 The Toronto Raptors will have two representatives in the USA men's basketball team at the Olympics in Rio and that can only be a good thing for the franchise, according to general manager Masai Ujiri.
The Raptors reached the Eastern Conference Finals last season but came unstuck against eventual champions Cleveland Cavaliers, who claimed a 4-2 series win.
DeMar DeRozan and fellow Raptor Kyle Lowry will head to Rio with the USA and Ujiri hopes the Toronto pair star at the Summer Games.
"I think it's fantastic for them," Ujiri told the Toronto Star. "[It's a] great opportunity, and you know what, I played for Nigeria, and to play for your country is something that you can't explain.
It doesn't matter about the circumstances, just to play for your country is something different." The Raptors also have Jonas Valanciunas [Lithuania], Luis Scola [Argentina] and potentially Corey Joseph [Canada] heading to Rio.
Ujiri insists Toronto can only be boosted by having so many Olympians within their ranks and he doesn't think the Summer Games will have any adverse effects on the Raptors heading into the new NBA season.
He added: "They know their bodies, they know how to train, and will it break them off their regimen? Probably, but they're two professionals who have shown, in my opinion, growth.
Working has never been an issue with those guys, and I think they'll figure out their schedule. And this is over in the middle of August, so it's fine.
"It's great for us. DeMar is playing in the Olympics, Kyle is playing in the Olympics, Jonas is playing in the Olympics, Cory Joseph has a great chance to play in the Olympics if [Canada] qualifies, Scola is playing in the Olympics, shoot, maybe I should go play for Nigeria, wrap it up."
Valanciunas' Lithuania are 2.05 to win against host nation Brazil in the Olympics on August 7.
The Raptors are 34.00 to win the NBA Championship next season and the Cavs are 4.20 to successfully defend their title.
Leave a comment