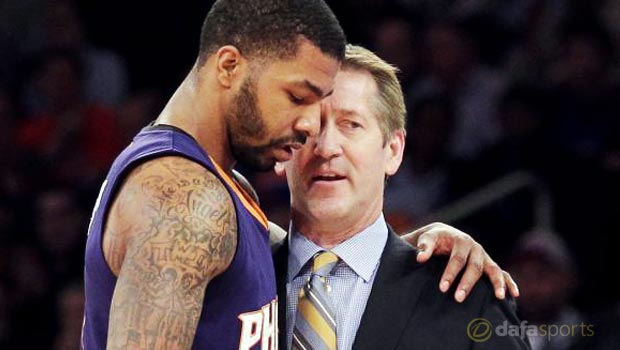 Head coach Jeff Hornacek hopes Markieff Morris can swallow his pride and resurrect his career with the Phoenix Suns.
The 26-year-old forward, who is the longest-tenured player on the Suns roster, has been agitating for a move since his twin brother Marcus was traded to Detroit in July.
Morris has said on several occasions that he wants to leave Phoenix and was recently handed a $10,000 fine by the NBA after comments he made to Keith Pompey of the Philadelphia Inquirer were deemed to be "detrimental" to the league.
"Hopefully he can get here and we can all talk to him," said Hornacek. "I think once he gets here with the players – and maybe the players can help out in that regard – and realise that, probably like anything else, it happens when you might not be happy with the organisation, but you're a professional, you go out there and you play as hard as you can.
"Once he gets playing with these guys I think he'll be okay."
Morris played college basketball at the University of Kansas before being drafted 13th overall in the 2011 NBA draft by the Suns.
He has been a regular in the Phoenix side in the last four seasons, featuring in more than 300 matches, and signed a multi-year contract extension with the team 12 months ago.
Phoenix failed to reach the playoffs last season for the fifth year in a row, which equals their worst ever run.
Phoenix are 126.00 to win the NBA Championship outright this season, while Cleveland Cavaliers are 3.75 and San Antonio Spurs 4.75.
Leave a comment