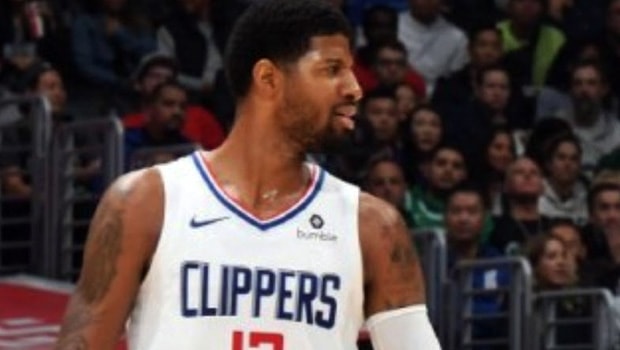 Paul George went on SHOWTIME SPORTS' All The Smoke on Wednesday and said that the Clippers' offense wasn't utilizing him to the best of his abilities.
The Clippers traded for George before the start of last season, pairing him with Kawhi Leonard and he averaged 21.5 points, 5.7 rebounds, 3.9 assists and 1.4 steals on 43.9 percent shooting from the field in 29.6 minutes over 48 games.
George then averaged 19.8 points, 6.4 rebounds, 3.3 assists and 1.8 steals on just 39.8 percent shooting from the field in 36.8 minutes over 13 games in the playoffs. He's averaged 20.0 points, 6.4 rebounds, 3.4 assists and 1.7 steals in 33.5 minutes over 652 career games (604 starts) with the Pacers, Thunder and Clippers.
The Clippers' downfall last season was not running the offense through George. He should be their point guard next season. PG13 broke it down today. He's not a spot up shooter! George needs the ball in his hands. If new head coach Tyronn Lue does this, the Clippers are going to be better.
"The way I was being used, I felt Doc was trying to play me as a Ray Allen or a JJ Redick, all pin-downs. I can do it, but that ain't my game. I need some flow, I need some mixes of some pick-and-rolls, post ups, diff. touches. Last season was hard."
George on the Clippers blowing a 3-1 lead to the Nuggets in the second round of the playoffs last season: "During that whole process, we never worked on adjustments. We never worked on what to do differently. We just literally having the same sh*t happen over and over again. It started to play tricks on you."
Leave a comment