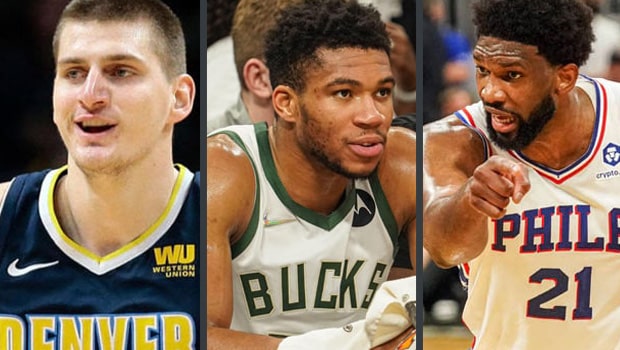 Defending MVP Nikola Jokic will compete with Joel Embiid and Giannis Antetokounmpo for the NBA MVP 2021-22. The NBA revealed the three finalists on Sunday voting. Jokic had clinched the marquee award in the previous season, which had ended Antetokounmpo's two-year run for the MVP.
The trio has been in sensational form in the ongoing season and had played a key role in the success of their respective teams in the regular season.
Joel Embiid, who represents the Philadelphia 76ers, was the top scorer in the regular season as he was averaging 30.6 in the offensive leaders. Furthermore, Embiid averaged 11.7 rebounds in the regular season and he was in fifth place among the Defensive leaders. This will be the first MVP for Joel Embiid if he is bestowed with the coveted award.
Giannis Antetokounmpo, who plays for defending champions Milwaukee Bucks, is in second place with an average of 29.9 in the offensive leaders. Nikola Jokic had an average of 27.1 for Denver Nuggets in the offensive leaders and finished at 10th place in the regular season. The MVP award will be announced by the league during the post-season.
Meanwhile, LeBron James had an impressive average of 30.3 but the LA Lakers could not even qualify for the playoffs as they had a terrible record of 33-49.
Other finalists as reported by AP:
DEFENSIVE PLAYER OF THE YEAR Mikal Bridges (Phoenix), Rudy Gobert (Utah), Marcus Smart (Boston).
COACH OF THE YEAR Taylor Jenkins (Memphis), Erik Spoelstra (Miami), Monty Williams (Phoenix).
MOST IMPROVED PLAYER Darius Garland (Cleveland), Ja Morant (Memphis), Dejounte Murray (San Antonio).
ROOKIE OF THE YEAR Scottie Barnes (Toronto), Cade Cunningham (Detroit), Evan Mobley (Cleveland).
SIXTH MAN OF THE YEAR Tyler Herro (Miami), Cam Johnson (Phoenix), Kevin Love (Cleveland).
Leave a comment