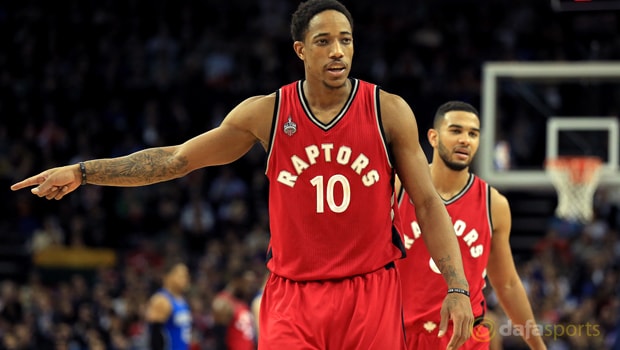 DeMar DeRozan believes the fun the Toronto Raptors have together on court is the key to their fine form this season.
The Raptors have gone under the radar for most of the campaign but sit top of the Eastern Conference and look set to be dangerous customers in the play-offs.
A four-win streak has enabled them to boost their lead over Boston, while Cleveland are also tracking them.
For now though, the pressure seems to be off Toronto and DeRozan and his colleagues are clearly enjoying their time together.
With such a young roster the 28-year-old says he and the other more experienced members of the Raptors' squad have ensured that their younger colleagues enjoy their run and embrace what could prove to be a rare opportunity.
"It's more, we have fun with one another, but we understand it's bigger than us all," he said.
"We, all of us, tell the young guys, 'this opportunity doesn't always come around that often.
Take advantage of this and be all for it. Before you know it, you're going to be 10 years in, and the opportunity may not come again. Take full advantage of it.'
"And everybody understands that. We see it now, especially when we have games where we lose a game.
We think we're on a 10-game losing streak. That's how we approach coming in the next day at practice, or the next game. It's great to have that kind of feeling and vibe."
Toronto are currently 13.00 for a maiden NBA Championship, with holders Golden State lead the betting at 1.53, while Houston are available at 5.00.
Leave a comment