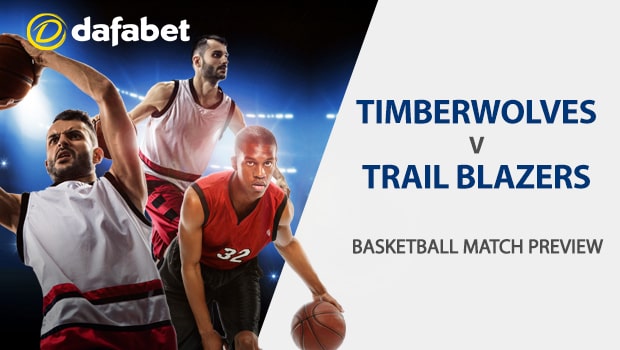 Toronto Raptors vs Boston Celtics
Friday night NBA action continues as the Minnesota Timberwolves, fresh off their Jimmy Butler trade, get set to host the Portland Trail Blazers in a Western Conference showdown. We've got another situation here where offshore odds and AccuScore sims are on opposite sides of the money line.
Let's take a closer look at where the value is at in this match.
Team to Win (Regular Time)
• Minnesota Timberwolves: 2.06
• Portland Trail Blazers: 1.84
Spread
• Minnesota Timberwolves +1.5: 1.96
• Portland Trail Blazers -1.5: 1.93
Total
• Over 223.5: 1.95
• Under 223.5: 1.93
What to Watch For
Bright Spot: The Blazers had a frustrating 126-117 loss to the LA Lakers on Wednesday, but big man Jusuf Nurkic had an impressive performance in 35 minutes of action. Nurkic finished with 21 points, 14 rebounds and 4 blocks. It was easily his best overall performance of the season so far.
Good Riddance: With Jimmy Butler gone from the scene, there really isn't any more excuse or distraction for Karl-Anthony Towns and Andrew Wiggins to under-perform. They both had a good performance in Wednesday 107-100 win over the Pelicans, suggesting the trade may have been a blessing for everyone involved.
Towns had 25 points and 16 rebounds, Andrew Wiggins finished with 23.
New but Ready: Robert Covington just joined the Wolves, but he already had a game where he finished with the most minutes played on his team. Not surprising given coach Tom Thibodeau's history, but Covington got the start Wednesday vs the Pelicans and played 41 minutes.
Covington is projected to finish with 11 points Friday night.
Projected Leaders
Damian Lillard is projected to lead Portland with 29 points, 7 assists, 5 rebounds, 1 steal and 3 turnovers.
For Minnesota, we'll have our eyes on Karl-Anthony Towns who is projected to finish with 20 points, 10 rebounds, 2 blocks, 1 steal and 2 turnovers.
Analyst's Pick
Wolves to cover as home 'dogs.
Odds indicate there's a 51 percent chance the Wolves cover a 1.5-point spread at home. They cover close to 60 percent of AccuScore sims, suggesting some added side value. The Wolves covering the spread is a four-star (out of four) AccuScore hot trend pick.
The average score in AccuScore sims is 121-120, in favor of the Wolves.
Related Article Coverage: Toronto Raptors vs Boston Celtics
Leave a comment