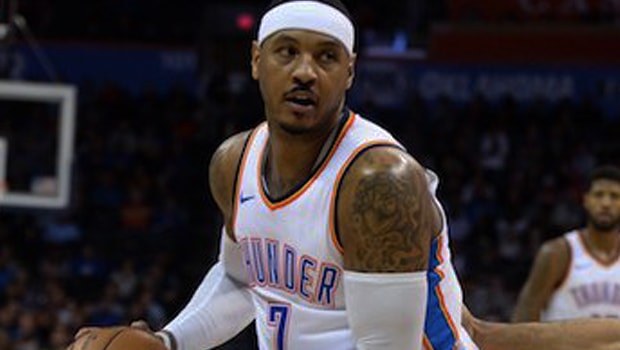 Carmelo Anthony believes Oklahoma City Thunder's offensive line is beginning to gel after a less-than-spectacular start to the season.
Much had been expected of the Thunder heading into the 2017-18 campaign, as they added former New York Knicks star Anthony and Indiana Pacers small forward Paul George to their offensive ranks to work alongside 2017 MVP Russell Westbrook.
However, things got off to a rocky start for Oklahoma, as they only won eight of their opening 20 games, but have since managed to turn their form around following a run of 12 wins in their last 15, and they now sit comfortably in fifth place in the Western Conference standings.
The Thunder's notable return to form is largely down to their offensive improvement, with Anthony, George and Westbrook all beginning to work together.
Anthony believes it was always going to take time for the three star players to find their rhythm together, but he is confident they can now excel over the rest of the campaign.
"It takes time to get used to one another," Anthony said.
"I said this early in the season: Nothing happens overnight. It takes time for everybody to figure it out.
"This was all new, and it's still all new, but the more time that goes by, the more we're able to figure it out. Learning each other, figure out each other's tendencies.
"But I think the most important thing is we're starting to accept what we bring to the game and what we bring to the team, and everybody's honouring that."
Oklahoma are next in action when they take on the Milwaukee Bucks at the Chesapeake Energy Arena on Friday and they will fancy their chances of maintaining their impressive form, as they beat the Bucks 110-91 earlier in the season.
Leave a comment