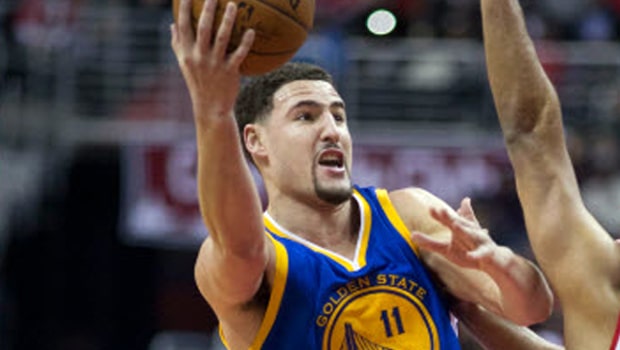 Golden State Warriors shooting guard Klay Thompson believes the rivalry between his side and the Los Angeles Lakers could be "great" this season.
The rivalry between the Lakers and Golden State has largely been absent for the last few years but this year, according to Thompson, the intensity could return.
That is mainly down to the arrival of LeBron James at the Lakers after he decided to sign a four-year $153.3million deal this summer after leaving the Cleveland Cavaliers. At his unveiling press conference, James conceded his new team have a long way to go before they can compete with the Warriors.
However, Saturday's game at the SAP Center in San Jose promises to give the Lakers the chance to impress.
James has looked good in yellow during the first three pre-season games and Thompson expects the rivalry to return to new heights.
He told ESPN: "I think it's pretty cool. I don't think you would have guessed it when he was with the Cavs when he started his rookie season, but it's adding a ton of interest in the league.
"We've seen him he's always been at the top of the East during the Finals. And those games are always intense. I expect him to greatly improve the Lakers and they've obviously got a bunch of guys who are proven now.
"I just expect it to be intense. Any time you play against arguably the best player in the world, no matter what sport, you want to measure yourself against him. So you play as hard as you can, it will be no different when we play the Lakers."
The Warriors faced the Cavaliers in the last four NBA Finals but this will be the first time James will come up against the two-time defending champions at this stage of the season.
The Warriors are 1.53 favourites to win the NBA title, while the Lakers are 12.00 to lift the trophy.

Leave a comment