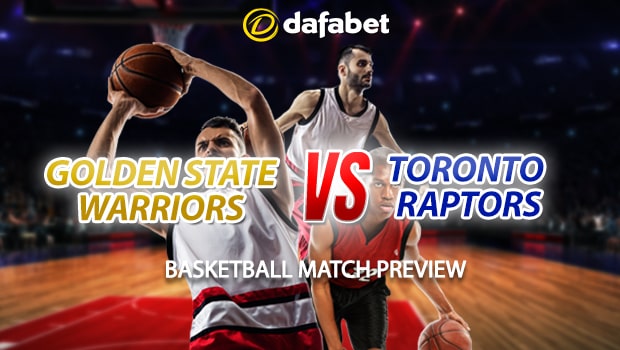 Golden State Warriors vs Toronto Raptors
The NBA Finals now shift to the West Coast as the Golden State Warriors host the Toronto Raptors for Game 3. The Warriors tied the series at 1 game apiece after their 109-104 win in Game 2. Game 3 tips off Wednesday night at Oracle Arena.
Let's take a closer look at where the value is at in this Game 3 matchup.
Team to Win (Regular Time)
• Toronto Raptors: 2.98
• Golden State Warriors: 1.44
Spread
• Toronto Raptors +5.5: 1.98
• Golden State Warriors -5.5: 1.90
Total
• Over 212.5: 1.90
• Under 212.5: 1.99
Total: There's a 52-to-53 percent chance the total combined score goes over 212.5. That happens in 60 percent of simulations – a one-star (out of four) hot trend pick.
The average combined score in simulations is 218.5 points.
Going on a Run: Both the Raptors and Warriors struggled out of the gate in Game 2, but Golden State used a 27-3 run between the second and third quarters to take control of the game. Keep an eye on these big runs as they are a huge indicator in competitive matchups.
Back-to-Back Stat Stuffers: With Kevin Durant out, Warriors forward Draymond Green is asked to do a lot more. He followed his Game 1 triple-double up with another near triple-double in Game 2, finishing with 17 points, 10 rebounds, 9 assists, 2 steals and 1 block.
Green is projected to finish Game 3 with 13 points, 9 rebounds and 8 assists.
Shooting Struggles: As a whole, Toronto struggled from the field in Game 2. The Raptors shot just 37.2 percent from the field, and connected on fewer than 29 percent of their three-point attempts. Going on the road isn't necessarily a recipe to fix shooting woes.
Toronto is projected to shoot 46% from the field in Game 3.
Stephen Curry is projected to lead Golden State with 37 points, 9 assists, 6 rebounds and 2 steals. In simulations, he averages 7-of-13 from beyond the arc.
For Toronto, we'll have our eyes on Kawhi Leonard who's projected to finish with 25 points, 6 rebounds, 3 assists and 1 steal.
Warriors -5.5
This is a 3-star (out of four) AccuScore hot trend pick. There's a 52.6 percent chance the Warriors win this game by 6 points or more. That happens in exactly 52.6 percent of AccuScore sims. The Warriors win about 69-to-70 percent of simulated games.

Leave a comment