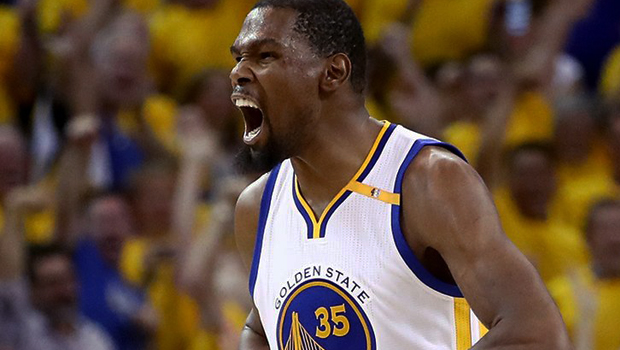 Flashback to last year's game 5, Cavs won over Warriors 112-97 with the stunning performances of James and Irving both 41 points apiece.
Today, another epic game is about to happen after an amazing part of Game 4 favors Cavs (137-116) in their home court. Can this be the end of Cavs journey to championship or will they carry the momentum to force game 6 against Warriors?
First quarter starts with Cavs first possession and a lay-up courtesy of Tristan Thompson. However Durant answers back with a drive to the basket from a free throw by Steph Curry (3-2).  At 8:59 scores tied at 9-9 but sends Kevin Love to the bench with two quick fouls.
Cavs lead by 4 at 8:42 with very quick flurry courtesy of Kyrie Irving during the transition and Lebron's steal adding two more. James shooting for tonight 5-of-6 extending the lead to 8 at 20-12. Cavs lead 37-33 (end of first quarter)
James, Kyrie and Curry all have 12 points. 2nd quarter starts with a steal from James and an exclamation dunk over Kevin Durant from an assist by Deron Williams. Warriors cut the lead from 4-point score by David West 41-37. Silence observed on Cavs for series of possessions.
Warriors have their first lead of the 2nd quarter at 45-43. At 2:00 Draymond Green hit an alley-oop and Igoudala with an exclamation point. 1st half ends 71-60 in favor of Warriors after JR Smith hit two three pointers.
Half time sums up 21 points apiece for Lebron James and Kevin Durant. The Warriors had 16 threes vs Cleveland's 6 and in the first and second quarter. In continuation, Keving Love picked up his first points in the 3rd 76-64 still in favor of the Warriors.
At 7:53 Draymond Green gets into the foul trouble with 4 fouls of the night that leads another two for Lebron (25 points). At 5:25 Steph Curry gets 4 points – a lay-up and another 2 from the line. Golden State outscored Cavs with 24-2 run. At nearly 2 minutes of the 3rd quarter Cavs cut the lead to 6 courtesy of Kyrie's free throws. Both teams missing free throws but GS Rookie Patrick McCaw nails 4 points in a row. JR Smith heroic moves cut the lead to only 5 at 98-93 with an explosive buzzer beater in the last possession (end of 3rd quarter).
Consecutive points for Warriors in the opening of the 4th quarter courtesy of Durant's jumper and Iguodala's 3-pointer.  At 9:00 the lead backs to 10 still in favor of the Warriors after Kevin Durant hits 2 free throws. Meanwhile, James takes a rest on the bench. At 8:20 Kyle Korver hits his first 3-point score of the night making it 6 in total for Cavs and the lead cuts down to 6 points still in favor of the Warriors.
Durant hits three consecutive basket shots getting back the lead to 10 points (KD now has 39 points). At 4:03 Curry takes the spotlight with back-to-back baskets regaining the 14-point lead almost reaching the 18 point lead during the first half.
Entering the 3-minute mark, Klay Thomson pulls up and hits the jumper. JR Smith missed the free throws and Warriors get the quick bucket. Huge opportunity missed by Cleveland. Steph puts the exclamation point with another 3-pointer. Golden State Warriors are now NBA 2017 Champions 129-120.
Kevin Durant wins his first championship with Golden State warriors and claims 2017 Finals MVP. In addition, LeBron James has moved up to 4th in all-time FGs made in the NBA Finals, passing Elgin Baylor.
Leave a comment