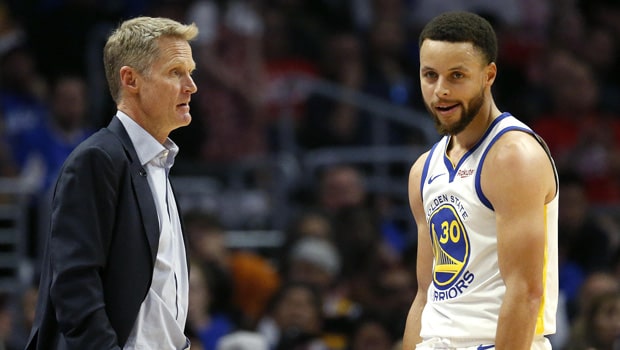 Golden State Warriors head coach Steve Kerr reckons teams are going to commit people to Steph Curry the way Phoenix Suns did on Tuesday. The Suns were able to break Golden State Warriors' seven-match losing streak as they won by 104-96.
The key to Phoenix Suns success was that they were able to keep Stephen Curry in check. Curry had one of the worst shooting nights of his glorious career as shot just 4-for-21 from the field for 12 points in 36 minutes. Mikal Bridges and co. were able to crowd Curry and the talisman could only shoot just 19% from the field.
However, Kerr feels as the other teams might also adopt the same strategy against GSW and it will give the opportunity to players like Jordan Poole, who has been in good form along with Curry, to score more. Kerr also hinted at the return of Klay Thompson, who will definitely add more value to the team.
"Teams are going to commit people to Steph the way Phoenix did. There's gonna be openings. There are gonna be openings for Jordan (Poole). Openings for Otto (Porter Jr.). Those guys knocked down a bunch of threes. Openings for Klay Thompson. That's gonna be fun. Lots to look forward to," Kerr said.
GSW has cleared Klay Thompson as 100% fit and he has been practicing with the G league team. Thus, it looks like a matter before the linchpin will return back to action.
Meanwhile, Golden State Warriors will look to get back to winning ways after the loss against Phoenix Suns. Kerr's men will have the opportunity to avenge their loss as they will once again face Phoenix Suns on Friday. Curry will also look to turn the tables and get back to his absolute best after having a rare off-day on the court on Tuesday.
Leave a comment