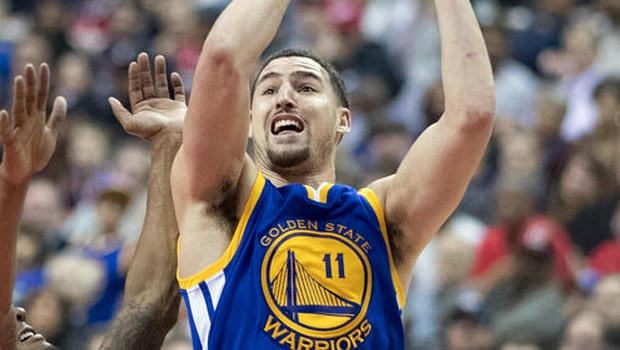 Klay Thompson converted his first 10 three-point attempts as the Golden State Warriors tightened their grip at the top of the Western Conference standings with a 130-111 victory over the Los Angeles Lakers on Monday.
The 28-year-old's accurate shooting from long-range equalled the NBA record for consecutive three-pointers at the start of a game, a mark previously set by former Denver Nuggets point guard Ty Lawson back in 2011.
Thompson went on to miss his final three-point attempt of the night, but he finished as the Warriors top scorer with 44 points, as the reigning NBA champions secured their eighth straight victory.
The shooting guard was certainly pleased by his personal haul, admitting after the game that you have to take full advantage when you are feeling on top form.
"They went in tonight, fortunately," Thompson said via 95.7 The Game.
"When you got the hot hand, you're just looking for that little ounce of space, because all you need is an inch or two. That thing is just flicking off your wrist so easy, and it just happened to be one of those nights."
The victory leaves Golden State, who are priced at 1.53 to win the NBA Championship for the fourth time five years, at the top of the Western Conference standings, while the Lakers' struggles without LeBron James continued.
Luke Walton's team have only won five of 14 games without James, who has been sidelined since suffering a groin injury against the Warriors on Christmas Day, and that poor run of form has seen them slip out of the play-off positions.
The Lakers will be hoping to return to winning ways when they take on the Minnesota Timberwolves in their next game on Thursday, while Golden State are back in action the same night against the Washington Wizards.
Leave a comment