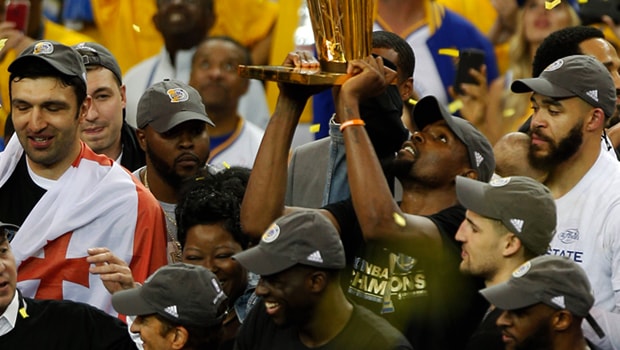 Kevin Durant revealed he hadn't slept for two days before the Golden State Warriors closed out their NBA Championship win by defeating Cleveland 129-120 for a 4-1 series victory.
The success ensured the Warriors had come through a near-perfect playoff campaign, winning 15 of the 16 post-season games they played.
Having beaten Cleveland in the 2015 Finals, the Warriors squandered a 3-1 lead 12 months ago, allowing the Cavaliers to prevail.
While the Cavs avoided the whitewash this time around by winning game four, Durant and the Warriors weren't about to allow them storm back into contention.
Having brought Durant over from the Oklahoma City Thunder last offseason to bolster their already high-powered offense, the Finals MVP admitted he was feeling the pressure to deliver.
"I couldn't sleep for two days," Durant said during an on-court interview. "I was anxious, I was jittery. I just wanted to lay it all out there.
I put in work, I just had to trust in it. We were really good tonight." Durant certainly did that, leading the way for the Warriors with 39 points in the decisive Game 5 win.
Even with four-time league MVP LeBron James doing all he could to keep his team in it, as he notched a game-high 41 points, the Cavaliers were not able to match Golden State, with turnovers allowing Steph Curry and company to tick over the scoreboard.
Both James and Kyrie Irving impressed Durant, but he felt his side had proved themselves as the best in the NBA. "You have to tip your hat to Cleveland," he said.
"LeBron and Kyrie, I've never seen nothing like them two before. But we prevailed, we're champions and it's amazing doing it on our home floor."
Leave a comment