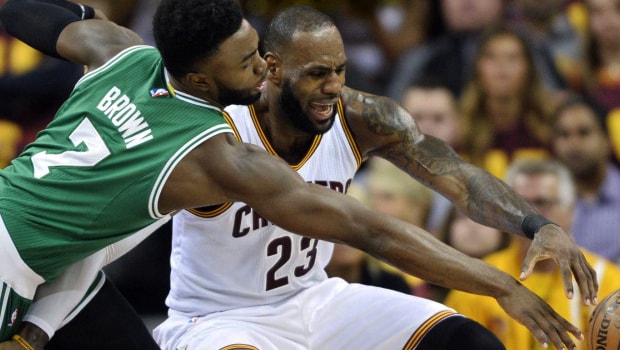 LeBron James admitted it was hard for him to explain his uncharacteristically poor showing in Sunday's 111-108 play-off defeat to Boston.
The reigning NBA champions led 2-0 heading into Game 3 and looked to have caught a further break with the injury to the Celtics' star man Isaiah Thomas.
However, they struggled to find their rhythm with James failing to impose himself when it mattered in the fourth quarter.
In fact it was the first time since 2006 that the 32-year-old has failed to score a point in the fourth quarter of a home match.
The pair now head into Game 4 on Wednesday with plenty to play for and the Cavs will be keen to reassert their authority on the Eastern Conference Final.
Cleveland are currently 3.10 to retain the Championship, with the Golden State Warriors the massive 1.30 favourites.
James stood out in last season's Finals and will be keen to rediscover his best form as he looks to claim a fourth career title.
The small forward was distraught with his showing on Sunday and admitted he and his team will need to be far better when they resume their battle with Boston on Wednesday.
"I had a tough game, period. Not just in the second half," he said.
"Me personally, I just didn't have it. My teammates did a great job keeping us in the game and building that lead. But me personally, I didn't have it.
"We've got to be a lot better. It's the postseason. You win some, you lose a couple, maybe, but how can you be better from game to game?"
Leave a comment