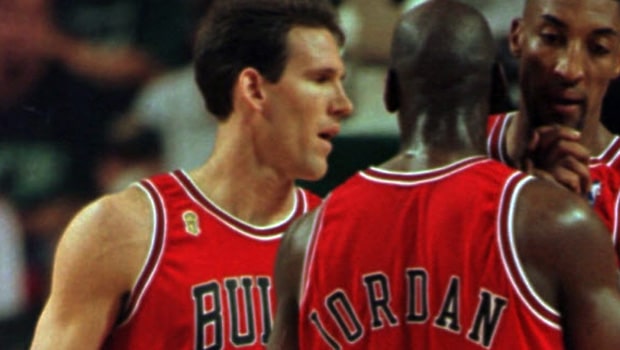 Jud Buechler, one of MJ's teammates with the Bulls, was a sharp-shooting reserve small forward with them from 1994 to 1998. A three-time NBA champion, Buechler didn't play much, especially in the 1997-98 season but he was beloved by teammates and fans alike and was a locker room leader.
Buechler appeared as a guest on The HoopsHype Podcast with Alex Kennedy in May and talked about how he reacted when he learned that Jordan was returning to the Bulls.
"Well, that was an incredible moment for all of us. Most of the guys on that team, we weren't around [for the first three-peat]. There weren't too many holdovers from the first three championships in the early '90s, so all of us had been in the league for a while and played against him and seen his greatness.
On one hand, it was so exhilarating to know that we get to play with the greatest basketball player in the world. And, on the other hand, it took some time to kind of adjust to playing with him because I think we all just kind of stood around the first week of practice when he came back and just watched him. (laughs) We just gave him the ball and watched him, so it took some [time for] cohesiveness and team jelling and to figure it out. Phil always said, "Don't stand around and watch him. Play!" It took us a while to make that adjustment. (laughs)"
Jud Buechler played in the NBA until 2002 and he was an assistant coach for the Lakers from 2016 to 2018. He's currently an assistant coach for the Knicks.
Leave a comment