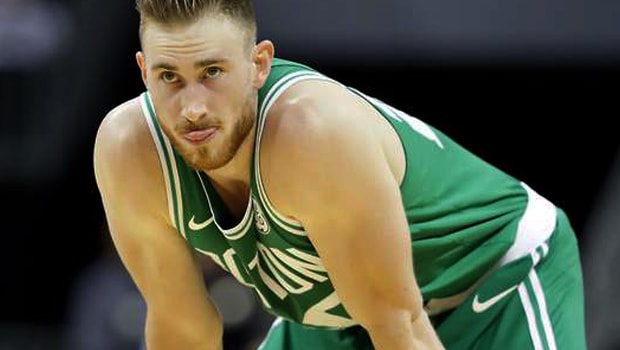 Boston Celtics' Gordon Hayward is confident he will return from his season-ending ankle injury stronger than ever.
The 2017 NBA All-Star fractured his ankle during the opening match of the 2017-18 season against Cleveland Cavaliers and he will now sit out the rest of the campaign.
The 27-year-old's absence was expected to have a huge effect on the Celtics, particularly as they went on to lose their opening two matches of the season, but they have since bounced back by winning 10 matches in a row to move to the top of the Eastern Conference standings.
The Celtics are next in action when they take on the Charlotte Hornets at the TD Garden on Friday, while they are priced at 13.00 to claim NBA Championship glory come the end of the season.
Hayward has had to watch on during his team-mates impressive run of form, but he is focusing on his own recovery, and he is confident he will be able to return to action sooner rather than later, particularly if he maintains a positive mindset.
"How can I get better with my ankle today? Be better today than I was yesterday? I think if I slowly work like that, I'll be back before I know it," Hayward told ESPN.
The former Utah Jazz ace has also revealed Los Angeles Lakers legend Kobe Bryant has been in touch to offer him some words of encouragement.
Bryant posted a motivational message on Instagram immediately after Hayward suffered the injury and the small forward has now confirmed the two have been in regular contact.
Hayward added: "Another person that has lifted me up and that I've been in touch with is Kobe [Bryant].
He sent that Instagram post, and he's emailed me a couple times too, just talking about attacking each day, set many goals and that's my mindset."
Leave a comment