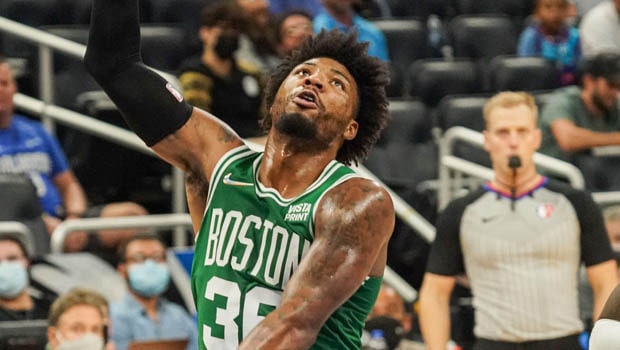 The Celtics are at a crossroads! Kevin Durant wants to join them but the Nets are asking for a lot in return, including reigning NBA Defensive Player of the Year Marcus Smart.
Jayson Tatum, Jaylen Brown and Smart form a dynamic Big Three for the Celtics, who added Malcolm Brogdon and Danilo Gallinari in the offseason. Both players provide depth, size and scoring, and on paper, the Celtics are scarier than ever.
Kevin Durant requested a trade from the Nets and the Celtics were mentioned as potential landing spots for the two-time NBA champion. When a player like Durant wants a trade, every team in the league is at least curious. Is Boston's interest genuine?
On Wednesday, Ian Begley of SNY wrote that the Celtics are Durant's preferred destination and that he wants to play with Smart.
"Durant sees Boston as a desired landing spot, per people familiar with the matter. Durant also would like to play with Boston's Marcus Smart if he is traded to the Celtics, per people familiar with the matter," Begley explained.
That might not be possible! According to Shams Charania of The Athletic and Stadium, the Nets want Smart in a trade for Durant, though it seems that the Celtics want to keep Smart.
"The Celtics offered Brown, guard Derrick White and a draft pick to the Nets for Durant, sources said. The proposal was rejected, and Brooklyn has asked Boston — in any proposal — to include Brown, Defensive Player of the Year Marcus Smart, draft picks and potentially one more rotation player, those sources added."
Leave a comment