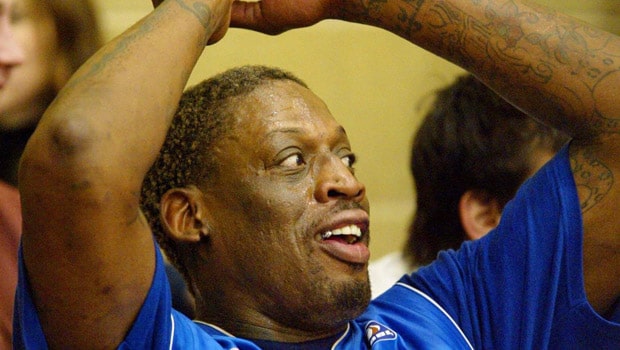 Dennis Rodman played with the Chicago Bulls for three years and his rebounding and defensive skills proved invaluable to them. Many consider Rodman the greatest rebounder of all-time and unique personality also made him a massive celebrity off the court.
Rodman played two more seasons in the NBA after winning his third championship in three years with the Bulls and in recent years, he received a lot of media attention because of his friendship with North Korean leader Kim Jong-Un.
Jud Buechler, one of his teammates with the Bulls, was a reserve small forward with them from 1994 to 1998. A three-time NBA champion with the Bulls, like Rodman, Buechler didn't play much, especially in the 1997-98 season but teammates and fans alike loved him and he was a locker room leader.
Buechler played in the NBA until 2002 and was an assistant coach for the Lakers from 2016 to 2018. Nowadays, he's an assistant coach for the Knicks and he recently said that Dennis Rodman is one of the best teammates he ever had.
Appearing as a guest on The HoopsHype Podcast with Alex Kennedy in May, Buechler said that Rodman was a great teammate:
"When the lights came on, he went crazy, he went nuts; he was a showman and very flamboyant and everything. But I think the one misconception about him is that he's always like that, but behind the scenes, he was actually quiet.
He was super nice and he was super generous with all of us, just a great teammate. In practice, he just worked as hard as anybody."
Buechler said that Rodman was actually borderline shy and that he didn't talk much.
"When he got inducted into the Basketball Hall of Fame, Steve Kerr and I went, and I was really happy to be in the crowd and see him there and to be there for that moment, for him," Buechler concluded.
Eduardo Solano, from FOX Sports 1340 AM Hopewell and AccuScore recently wrote this about Rodman: "Rodman is a very kind and generous individual. Not many people know that every time the Bulls played in Boston, Rodman would buy out Toys"R"Us and deliver toys to Boston Children's Hospital. No media was ever notified."
Leave a comment