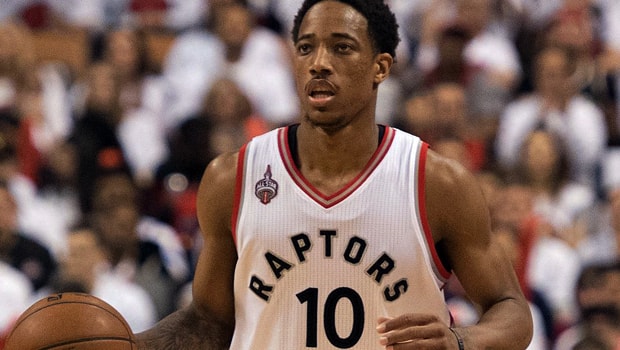 The Toronto Raptors will continue to push in the regular season to ensure they secure a favorable playoff seeding, according to guard DeMar DeRozan.
The Raptors are currently fourth in the Eastern Conference but they are under pressure from Atlanta Hawks in fifth spot.
Toronto could yet finish higher as they can still close the gap on Boston and Washington ahead of them, although leaders Cleveland Cavaliers are probably now out of reach.
The Raptors host Dallas Mavericks on Monday evening after going 2-3 on the road, while the Mavs head to Canada after a 4-1 homestand.
Dallas will be no pushovers as they continue their own bid to secure a place in the postseason but DeRozan wants his side to end the regular season strongly as they bid to improve on the previous campaign, where they lost out to eventual champions Cleveland in the Eastern Conference Finals.
"Look at the calendar, 15 games left (in the regular season)," DeRozan said. "That should be all the motivation we need right there.
We don't have much time and every single game that we have to play is valuable. That's how we have to look at it."
Toronto remain without guard Kyle Lowry for the visit of Dallas but forward DeMarre Carroll may return.
Dallas are hopeful Nerlens Noel will be available but coach Rick Carlisle insists they won't rush the center back into action.
The Raptors are 1.53 to win or 2.00 with a -4.5 handicap, while a Dallas win is 2.50.
Leave a comment