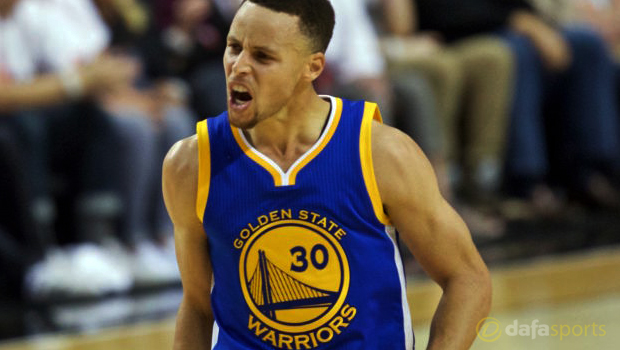 Steph Curry admits he was pleased to "find a groove" as he scored 40 points for the

Golden State Warriors

in their 132-125 play-off win over the

Portland Trail Blazers

on Monday.
The Warriors headed into Game 4 in a precarious position, having looked jaded in their defeat on Saturday, but were inspired by the return of their star man from injury.
Curry lived up to his hype, grabbing 40 points in total, including a record 23 in overtime to give the Californian outfit a 3-1 lead in the series and get their title defence back on track.
They will now be confident of booking their place in the Western Conference finals against either the San Antonio Spurs or the Oklahoma City Thunder, who are currently tied at 2-2.
After his return, Curry was modest about his achievements and said he was just pleased to have found his rhythm after struggling early on in his return.
"I just tried to give whatever energy I had to my team-mates," he told reporters. "It took a while to find a groove but I finally found it.
" The performance was all the more impressive as Curry was only expected to see limited game time, but was brought in early when starting guard Shaun Livingston was forced off after two technical fouls in the second quarter.
Coach Steve Kerr admitted that despite seeing the 28-year-old inspire his team so many times over the years, even he was surprised by the performance.
Kerr said: "I don't think anyone could have predicted the explosion. That was crazy. The guy had played one basketball game in three weeks."
The Warriors are currently the 1.75 favourites to retain their title, with the Cleveland Cavaliers their nearest rivals in the betting at 3.10.
Leave a comment