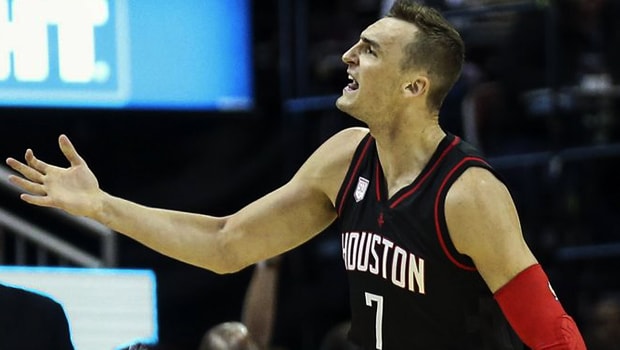 Houston's Sam Dekker is hopeful of being back in time for the play-offs after injuring his hand during Sunday's win over Phoenix.
After being drafted from Wisconsin in 2015, the 22-year-old missed the whole of last season due to a back injury but had been an ever-present when he stepped onto the court at the Talking Stick Resort Arena.
However, he damaged his hand while challenging the Suns' Jared Dudley during the fourth quarter and will now see a specialist to undergo further assessment, after initial x-rays suggested he faced between three and four weeks out.
Sunday's win ended a three-game losing streak for the Rockets and they currently sit third in the Western Conference ahead of Thursday's visit of Denver.
Despite the setback, Dekker is doing his best to remain upbeat, with the small forward targeting a return in time for the post-season. "It was a loose ball," he said.
"It (his left hand) got pinned up. I knew right away. Things happen. It's basketball. I'll be back. I hope I can get back and help the team in the playoffs."
He added: "It's a fluky thing. Things happen. I was mad because I missed all of last season. I was very proud of the fact that I played all (76). To go down with this, I knew right away. I was very (angry.)
Everything happens for a reason. Being negative won't get you anywhere. I'll be all right."
Houston are 19.00 to win the Championship, with conference rivals Golden State Warriors the 1.70 favourites and the San Antonio Spurs 7.00.
Leave a comment